Classic Springer Forks
Related Topics
Classic Springer Fork
Introduced on the Knucklehead in 1936, it was used on Big Twins from 1937 to 1949. On 45"/750cc flatheads, the classic Springer fork was used from 1941-1957. Compared to the previous I-Beam forks, the legs of the rigid fork were no longer drop forged, but were made of oval tubes. We keep hearing that this was for cost reasons, but as we know from our own experience, the manufacturing process for such oval, tapered and also S-shaped tubes is at least as costly. However, the connection to the lower triple clamp can be soldered/welded. On the I-Beam forks, it is riveted.
A little technology
The suspension travel of Springer forks is not all that great, the compression travel is about 50 mm. However, Springer forks respond as fine as telescopic forks, with proper adjustment of the spring tension. Springer forks were not damped in standard form, but there were - and are - friction dampers or hydraulic dampers as accessories. Handlebar slap was prevented with a factory-installed steering friction damper.
Our range of Springer forks
For both custom bikes and replacement of hard to find original parts, we offer a wide selection. Springer forks as original replacement for Big Twins, 45"/750cc Solo flatheads, Servi-Cars, Springer forks with overlength or underlength and also individual rigid and spring forks. Additionally, we offer a version of the I-Beam Springer Fork for Big Twin models 1936 and up. It is equipped with a 1" neck stem and fits, in combination with the supplied centering ring, for ball bearings from 1936 on. Two inch bearing locations allow mounting with taper roller bearings and the leg tube ends fit for in-line Springer handlebars from 1936 onwards.
Also included are replacement parts and accessories such as fork springs, rocker kits, grease nipples, repair bushings, adjusting nuts, triple clamps and the various shocks. For people who can solder or weld, there are also fork stems, fork legs and brake anchor mounts.
What does inline mean? What does offset mean on a Springer fork?
Harley-Davidson used different steering head angles on the frames of the 1000 and 1200 OHV Twins and the 1200 and 1300 SV engines over the 12 year period they were built:
1936-1937: 25°
1938-1940: 28°
1941-1945: 29°
1946-1948: 30°
For the riding charcteristics this means that - if the fork remains the same - the caster becomes larger and larger. The motorcycle becomes directionally more stable, but doesn´t corner as easy. That's why the neck post angle of the Springer fork on the Big Twins was changed in 1946: the tubes stand steeper than the steering angle. Viewed from the top, the upper ends of the fork leg ends stand in front of the steering head. The non-parallel design is called offset in Harley jargon. The design with parallel tubes and steering head is called inline.
Summarized, the following three categories can be found with Springer forks:
Inline. Original on Big Twins 1936-1945 and 45"/750cc Flatheads 1941-1957. Side tubes and steering head parallel. The rake (fork extension) here is 0°.
Offset -3°. Original on Big Twins 1946-1948. The side tubes are steeper than the steering head. The fork rake is therefore -3°.
Offset +3°. Not original. This comes from the custom department and applies to all our Springer forks in 8", 12" and 16" overlength. The stem of these forks is inclined to the front by 3°. This is done to avoid a steering neck so high and inclined that the bike is impossible to steer.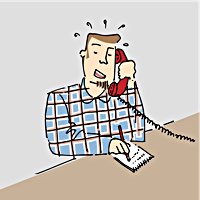 Have any questions?
Our service team will be glad to help out: Mondays - Thursdays 08:00-17:00 CET, Fridays 08:00-16:00 CET, Phone: +49 / 931 250 61 16, eMail: service@wwag.com