Home

STYLE FOR THE FAST AND LOUD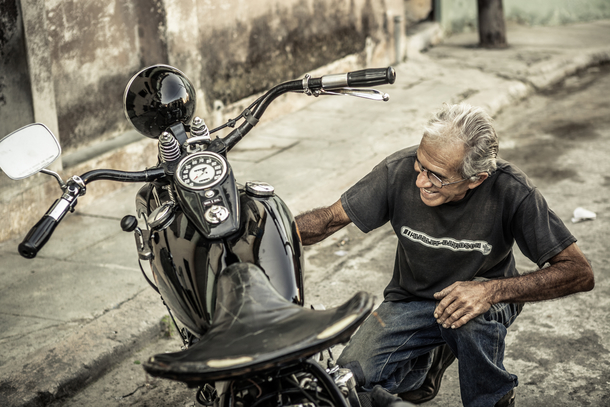 STYLE FOR THE FAST AND LOUD
There are parts that get bolted to your Milwaukee tractor and stay there. And there are parts that fall off after a few miles in the breeze or turn yellow at the fringes. Now, which parts would you choose? Right.
For the same reasons the discerning biker will look for long lasting quality and a certain kind of timelessness in his personal apparel. Guaranteed for the long distance so to speak.
We took the liberty of offering a comprehensive selection of these rare goodies in our easy-to-use webshop, available with only a few clicks and, most of all, our famously fast delivery. Care for a few samples? This way, please:
The Clara is inspired by Red Wing's first boot for women, the "Gloria", which ... more

The Engineer boots were originally designed for the namesake railroad men who ... more

A true classic in Red Wing's selection of work boots, designed and built to ... more

High quality boots made by the old-established German company Trabert. The ... more

A time tested classic by Vans. The original Vans vulcanized "waffle" outsole ... more

Holy hair net: isn't that a model TT coming clattering down the dusty road, a ... more

True workwear bibs as worn in the mid 1930s. The 1935 Mechanic bib is made from ... more

True workwear denim jeans with 1950s characteristics. The 1958 Roamer Pants are ... more

The O-Dog pants are the unquestioned classic work pants by Dickies which stands ... more

Beach Boy meets Cowboy. Rockmount's version of a literally cool short sleeve ... more

Work shirt which features distinctive, color-coordinated side panels and two ... more

Everyone needs a denim shirt and this 100% cotton, stonewashed classic gets ... more

When the leaves are falling, or the first snowflakes are settling on your gas ... more

The 1937 Roamer Shirt is based on an authentic American work-shirt from the ... more

Soft and toasty for the cold winter days, Rockmount's fleece shirt is one of a ... more

A garment that exemplifies the quality and craftsmanship on which Dehen has has ... more

Pattern for the 1954 Utility Shirt was an authentic vintage Tee with button ... more

An exclusive for W&W is this special version of Dehen's Naval Crew sweater with ... more

Back in the days when Knuckleheads, Flatheads und Panheads were new machines a ... more

Back in the days when Knuckleheads, Flatheads und Panheads were new machines a ... more

Wear a piece of history - Dehen's very own and very special version of the ... more

This flight jacket is taking cues from various military flight jackets of yore, ... more

Since the 1950s a classic part of the biker outfit and still popular with ... more

The N-1 Deck Jacket was issued to all U.S. Navy personnel during WW2. It saw ... more

A classic zipper work jacket with two open hand pockets and a zippered chest ... more

Get that perfect vintage style and feel with one of these cool Stormer jackets. ... more
It is an astonishing fact, that of all things an army jacket became a cult ... more

The classic N3-B parka primarily saw action as flight crew equipment during ... more

You simply can´t live without it anymore once you added this watch cap to your ... more

A classic which is hard to beat. The Northport knit beanie by Stetson USA not ... more

Scarf, bandana or a combination of both? On the bike all this tangle and ... more

A good bandanna is a great thing to have on a motorcycle. During the ride it ... more

Classic design with a 5" long and extra wide double leather cuff which features ... more

Designed for barbed wire fences, and other tasks where many gloves fail. These ... more

The all-purpose Shorty gloves are made from deer-skin. Wear them on the bike or ... more

The Sidewinders are true Rock'n'Roll shades with that authentic Buddy Holly and ... more

Do these sunglasses look familiar to you? No wonder, because the Shuron Ronsir ... more

What have the Moon Landing and Easy Rider in common? Cool dudes with stylish ... more

The Speedster with its compact outer shell is evocative of the helmets from the ... more

Yo noobs: a scramblerized Evo Sportster? A tricked out Knucklehead bobber? A ... more

For the friends of vintage machinery there's hardly a more stylish way of ... more

It's yesterday's style you want, but today's safety you need. Introducing the ... more

These goggles fuse classic designs with modern styling and technology resulting ... more

A classic Climax design with distinctive split lenses made from triplex glass, ... more

You probably just found the last leather belt you will ever buy because Galco ... more

Erwin "Cannonball" Baker, the legendary record rider after whom this belt is ... more

Get your mojo working from it or use it to carry your extra cash under the ... more

The design of the Ranger Belt was adopted from a cinching technique used in ... more

Inspired by the original Swiss Army saddle bags used in the 1920's-40's the ... more

The Bison Cross Body is a rugged, simple and functional over the shoulder carry ... more

Medium sized backback which was designed for emergency missions of medical ... more
""