Home

FAR OUT NORTH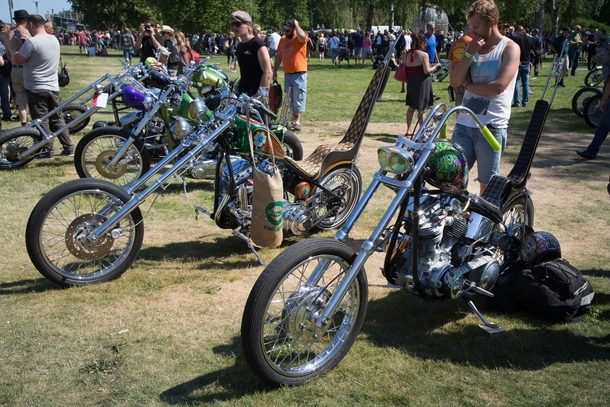 FAR OUT NORTH
Wide open throttle, the bird deflector busily deflecting birds, the Linkert butterfly vibrating in the staccato inhalations of our Big Flathead with its long springer pointed North, Norrtälje bound. The 80 cubic inches are filled with combusting gasoline, the ancient engine pushes the long forked beauty along with tractor-like thrust. The reason for this expediency is that we got held up at the Enköping "Hang Em Hi" longer than we expected. Still, we make it in time to the port town of Norrtälje, where the show opens at 10:00 sharp. Five hours later they already close shop again, the prize-giving being at 15:00. 5 hours to see 240 choppers, bobbers, trikes, Finnish CBR 1000 F baggers, Roman chariots and whatnot. OK, lets see what they have:
Behind half empty beer cans it's been rumoured that Norrtälje, Sweden is Finland's biggest bike show, but what else can you do during those extremely long-drawn winter nights. Between trying to hibernate those dudes get up and build bikes like nothing else on Earth. The result are 240 first rate machines in 7 categories. Of course there's customizers from other, less nordic countries, but even these know, that you can't get a moose off a cow here with a couple of gold plated highway bars.
A fine example for stylish, yet limitless exertion is this Roman inspired twin-Panhead-engined race chariot. Usually drawn by just 4 horses, this one had at least 90 of them on tap, which would have given Ben Hur a maybe unfair, but still helpful advantage in that infamous race. To put some new twist to the old saying, all the roads the builder of this machine took to come to Norrtälje started in, wait for it: Rome!
The mix between perfectionism and wacky races puts Norrtälje into a league of its own. All the bikes to take part in the judging have to do it under their own engine power. Which is bad news for the intricate piece of art, that has even been awarded international customizing honours, but can't get neither engine nor tyres up to working temps, and thus here has the status of "not finished". And stays outside, on the trailer.
OK, we're through. Well, almost. Yesterday night we had to skip the pre-party in the grounds of the Norrtälje Twin Club, 'cos we got kinda bogged down at the Enköping Hi-Revs CC and Lynchmen's "Hang Em Hi" party and were late. This evening, there's no dereliction of duty. We set up camp right on the Twin Club lawn and have a few drinks with the boys and girls we know around here, get to know some folks we didn't know yet, have another few with them, and again fall for that old party joke of these parts that it just doesn't want to grow dark this close to the polar circle. Oh, and how hard we fall …