Home

Pan-O-Rama

42

Did the first V-Twin come from Milwaukee?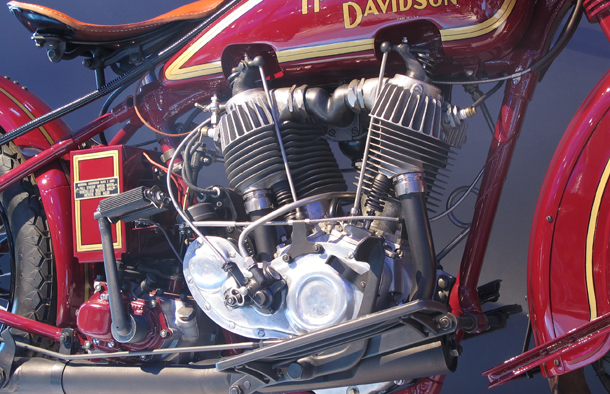 Was the first ever V-Twin born in Milwaukee?
This question certainly has inspired countless gearhead get-togethers and many of us dyed-in-the-wool H-D enthusiasts would not hesitate to holler: no question - the first V-twin was a Harley-Davidson!
Sorry folks, that sounds nice, but unfortunately it is absolutely, positively - wrong. Bill Harley and the Davidson brothers have to take a position quite in the back of the line, because they weren't even the first ones in the US, let alone in the rest of the world.
To answer this question of surely vital significance for us, we are required to take a pretty extensive trip back into automotive history.
In 1882 Gottlieb Daimler succeeded to fire up his first "fast running gasoline engine" in Cannstatt near Stuttgart, Germany. Only three years later, in 1885, this device propelled  the legendary "Reitwagen" which he had built together with Wilhelm Maybach and which is considered as the first gasoline-powered motorcycle.

Daimler Reitwagen - 1885
Based on these pioneering ideas and developments they designed and constructed during the years 1886-89 a four-wheeled " Motorwagen" which was exhibited at the Paris world fair (exactly, that's the one with the Eiffel tower).
Daimler-Maybach Quadricycle - 1889
This so-called Quadricycle or "Stahlradwagen" was propelled by a completely new power-unit which was - you guessed it - the world's first  V-2 engine, which Daimler had designed and patented in the preceding years. This engine had the cylinders angled at 17°, displaced 565 ccm and developed 1,5 hp at 700 rpm. Enough to reach the breathtaking speed of 18 km/h.

Daimler V-Twin - 1889
This answers the question who built the first V-Twin. Germany: one point.
As bikers, however, we are also curious to know who used the first V-Twin in a motorcycle.
For clarification we have to undertake another time travel to the end of the 19th century.
In 1894 Ms. le marquis Albert De Dion with his steam-powered tri-cycle lost the race Paris-Rouen against a gasoline powered Peugeot car with V-Twin engine by Panhard and Levassor.

De Dion Steam Tricycle - 1885
The Paris, France company Panhard-Levassor possessed the French license to build Daimler type engines and Armand Peugeot, offspring of the then already famous industrial dynasty, had constructed a matching 4-wheel chassis in 1890.
Panhard-Levassor Car - 1894
Well, Ms. le marquis was not amused and decided that his talented designer Georges Bouton should from now on concentrate on gasoline engines. Which he did with sweeping success. De Dion-Bouton engines soon became so well engineered and renowned that already in 1900 a mass-production of 3000 units was reached. Five years later the company produced 40.000 engines!Part of the production was used for the De-Dion-Bouton's own vehicles, but the majority of all engines was sold to other vehicle manufacturers, in fact worldwide. Compared to the competitors' products De Dion-Bouton engines were compact, light and powerful at the same time, so it didn't take long before the first single cylinder units were mounted in modified bicycles, propelling these from now on as "Motor-Cycles".

French Motorcycle - late 1890
Of course, they were mercilessly copied by the whole engineers-guild. Continental Europeans, Brits, Americans, among the latter the founders of our preferred brand, they all used the French designs as patterns.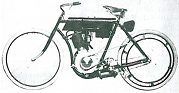 Harley-Davidson - 1905
So far so good. The single cylinder gasoline engine now drives motor-bicycles. Quite nice, but wasn't there something else? Hell, yes! Drive faster! More power!
Just at the beginning of the 20th century progress in design and development had reached a level where twin cylindered engines were light and small enough, too, to be placed in a bicycle frame and no other design seemed better suited by shape than the V-Twin. And this is exactly what happend.
Various sources and race track archives unanimously mention the French brand Clément-Gladiator in 1902. In this year Roger Léon Derny won several races astride a V-2 motorcycle with 598 ccm, among them the Circuit des Ardennes, the Course de côte du Mont-Ventoux (France), and the Semmering Race held in Austria.

Clément-Gladiator - 1902
Also for 1902, another French brand, called Griffon, gets mentioned in other sources with its motorcycle with a De Dion-Bouton designed V-Twin engine. This was a true racer, purpose-built for breaking speed records. The 4 hp engine is said to have been built by the Swiss company Zedel.
All that means that the V-Twin motorcycle laurels go to France and a little bit to Switzerland.

Griffon - 1902
The Americans, however, don't get a trophy this time. The first American V-twin powered machine was a "Hercules" brand motorcycle built by aviation pioneer Glenn Curtiss in 1903.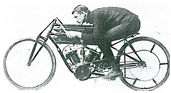 Curtiss Hercules - 1903
Indian stepped on the V-2 scene in 1906 and Harley fired the second cylinder for the first time in 1907, but did not market the motorcycle before 1909. That means that the most famous American motorcycle brands joined the game a couple of years later. So even if H-D crossed the starting line somewhat late, we can still hear the V-twins rumble loud and clear from Milwaukee until today and that is no small achievement in itself.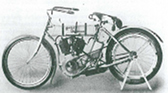 Harley-Davidson, 1907
Paul Jung / W&W Wrecking Crew
Sources:
Erwin Tragatsch, "Alle Motorräder 1894–1981"
Jerry Hatfield, "American Motorcycles"
Herbert Wagner, "At the Creation"
www.diagnosis2012.co.uk/earlyvtwins.html
www.brighton-early.com
www.peugeot.com
www.mercedes-benz.de
de.wikipedia.org
thevintagent.blogspot.com
racingmemo.free.fr
www.moto-histo.com/france/fr1/fr1.htm
laffrey.aaaa-grenoble.fr