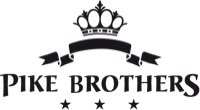 Pike Brothers 1965 CWU Jackets
The 1965 CWU Jacket ("Cold Weather Uniform") of Pike Brothers does not over-egg the pudding, especially when it comes to weight. It was developed in the early 1960s by the US Army and the US Air Force to protect their pilots from extreme temperature fluctuations. New forms of insulation with technical fibres were used to make the jackets even thinner and warmer. Thick, padded polyamide fabric makes them light as a feather, well insulated and abrasion-resistant. This jacket was originally intended as an underjacket for the flight suit, but it can as well be worn under the leather jacket on the motorcycle to provide extra warmth, or simply as a sole jacket.
Other features:
three sewn-on pockets
Talon zipper
storm flap with buttons
tube knit wrist cuffs and collar
authentic spec. Label
polyamide / polyester, black
* The price includes German VAT (19% or reduced rate of 7% for Books).