Home

The Trip Out, Clopton, GB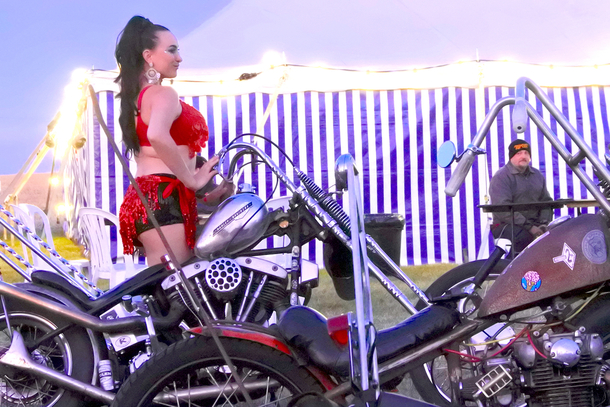 The Trip Out, Clopton, GB
What would be more fitting than a big bowl of porridge at the start of a two-wheeled journey to Brexitannia. The question remains though, why am I doing this – and at four in the morning?
But the ferry has been booked, and the satnav is telling me the way. I don the helmet, start the Shovel, the fire breathing machine slowly warming the cold oil in its innards. After the first rather chilly early morning hours a welcome coffee, fuel and croissant break warms the body again, as does a severe case of fuel anxiety a few hours later near the French border. Friendly natives do their best to help us make the ferry just in time.
Drive left on the motorway until the little voice
says it's time for the country roads. These Englishmen know how to do country. The Shovel rumbling merrily across meadows, fields and groves, passing inviting pubs and village greens until the destination, an abandoned airfield comes into view. Sprawling and derelict, with a museum at its core, and loads of old Harleys and Brit bikes sputtering, clunking and purring about. Talk about engines: The Trip Out's uniqueness is in its real bikes for real roads. No show queens here, every one of these beautifully built machines could be ridden right away. My personal favourite was no custom though, but a sweet Sixties barn find early Sportster with an original mileage of just 7.000 on the odometer. Beautifully rusted at the edges, a true Harley if ever there was one. There were upsweep pipes to seriously endanger incoming aircraft, vintage Indians (complete with engineer/home builder), early and late Brit bikes, bonkers Jap builds, beautiful Knucks and Pans, Shovels everywhere, Sporties galore. If you don't see the Harley of your dreams here, you have as much gasoline in your blood as a bucket of buttermilk.
If you forgot to bring a woolly hat, you could get one
in one of the many vendours' stalls, and brother, you needed one for sure. The sun was shining between the showers, with clouds sailing on the fresh Northerly across the early autumn sky, but autumn had come early, and a double layer of everything was very recommended. Spare parts could be found at another stall, hot soups, fish and chips and drink (OK, ten different beers won't do wonders for your body temperature, but at least you can forget the cold) were available at almost all hours.
If you wanted to dance to get warm, the excellent
choice of bands by Anna and Andy would not let you down. Moto Vamp, The Snakerattlers and Admiral Sir Cloudesley Shovell and between acts, the fabulous Meyer dancers used their well manicured bods to make heads spin and drive up body heat.On the way home the Shovel ran like clockwork from tank stop to tank stop, but a few miles from home a downpour out of the night sky got us, and before we could change into rain gear we were soaked to the bone, freezing, miserable and wet. Bringing back the question: why are we doing this? The answer, my friend, is somewhere in the wind in your hair.