Home

Mooneyes Hot Rod Custom Show; Yokohama, Japan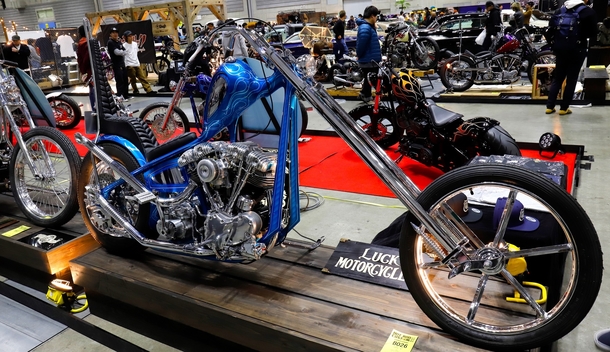 Mooneyes Hot Rod Custom Show; Yokohama, Japan
The calendar is looking thinner than a narrow fork chopper. Which can mean only one thing: The Yokohama Mooneyes Hot Rod Custom Show is on. The Best right at the end of the year. A few precious hours of chopper bliss. Which looks like this:
Woe to the man who has his own exhibitor's stand and can't move to check out the hardware. Torture! Pain! So there's even less time to give the hundreds of motorcycles a good hard look. Which is cruel, 'cos what's been assembled here has even the jaded eyes of our very own Nobbi san grow to the size of Pan covers. The highest density of Knuckleheads ever (OK, except, maybe, for the years between 1936 and '47, in the Milwaukee Factory yard).
All of this when right alongside the special "Eternal Panhead" show was taking place. Monumental.
Even when you're not fixed on a particular model you can stroll the aisles with a broad grin on your face all day. Though strolling too leisurely is not recommended, as the doors open at 8:30, at 15:30 they start with the prizegivings – we too have the honour to sponsor one prize, made by the awesome Boo san, who crafted from our well-weathered 1937 WLD head a splendid trophy. Which we had the pleasure to give to Kouji san (Indian Orange Motorcycles) as "W&W Pick" for his elegant and meticulous 1977 Harley-Davidson Low Rider Shovelhead. Congratulations.
When you consider that for motorcycles alone there were 37 trophies to be awarded, and the doors were to close at 17:00, you'll find that a day in Yokohama is over in a jiffy. Not to mention the 40 trophies for cars, the 4 bands, the countless stalls selling artful key-fobs, ...
... frying pans, skateboards, model cars. And then there's the Pin-Up girl contest, and the legendary ride-in for special guests … You just have to be grateful for every bit of memory space in your brain and in your smart phone. 'Cos it's just plain impossible to see everything at the Hot Rod Custom Show. If you don't believe us, just go and check it out for yourself next year.