Home

Six Town Chopper Show, UK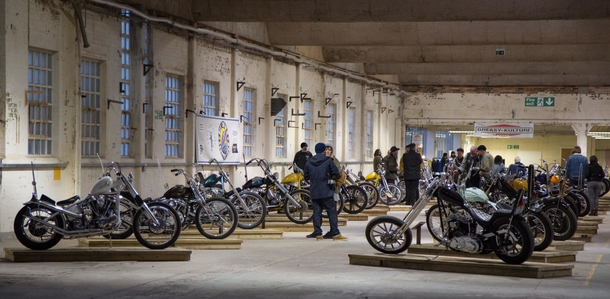 Six Town Chopper Show, UK
Some say Six Towns, the others call the town that's been wrenched together from 6 villages: Stoke-on-Trent. That's where they have a century old china factory, now converted to an awesome venue, and a few miles over to the left they keep the fine Stoke Speedway. So, what do you do with all that on a weekend in middle England? Right, you organize a chopper show in the factory, and on the day before you lay on a flat track race. Not a revolutionary idea, but a solid premiere for the Six Town Chopper Show.
Welcome to "A Night at the Races"
at Stoke Speedway. The races were to start at 18:30, and right on cue at 18:20 the rains set in. Rain as in DEELUUUGE! Rain plus flat track makes for mud, ooze, mire, you name it. For English riders that's nothing especially new, but after two laps of going sideways they all looked like the swamp monster. Still the plan didn't change: Go Fast! Turn Left! We say: respect.
The Saturday was much sunnier,
drier and not quite as fast, as the China Hall got filled with people and a load of impeccably built choppers. 29 machines, to be accurate. Inspiring ideas and awesome craftsmanship formed a happy union here with period correct parts and Milwaukee's finest hardware.

In the parking lot a few more bikes drew attention to them, perhaps not as long-forked as the ones in the indoor exhibition, but in no way less awesome. And, many of them had thundered, crackled, farted and whined to the China Hall on their own rubbers and under their own steam over the autumnal country roads of England.
If you were exhausted from checking out the scooters
and needed some recalibration of your brain, there had been laid on some fine diversions. There was a swap meet, photographs and artworks had been carefully curated and hung throughout the hall. There was jewelry, and sure enough, garb of all kinds to choose from. Plus some tasty burgers, Bourbon beer, bands and coffee. The misfire of the day went to the folks using paper cups to serve their coffee. Paper cups in a china factory? No way, dudes. The kick start of the day: right next to the sugar on the coffee table they had Bourbon instead of the usual milk (or – aarrgh – coffee whitener). Yess! That's the way to serve coffee! The paper cups were instantly forgotten.