Home

WHAT'S YOUR PRESENT JOB SMELLING OF?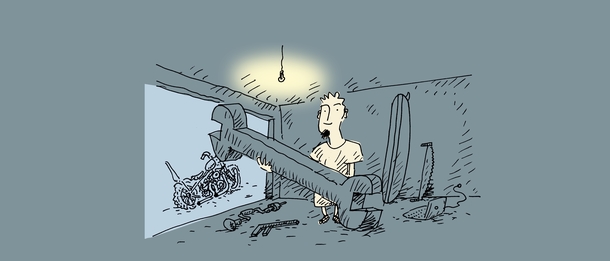 WHAT'S YOUR PRESENT JOB SMELLING OF?
Is it the sweet smell of petrol? Is it the faint whiff of burnt rubber, of hot engines and the longing for the open road?
No? Well, perhaps it's time for you to think about working for us. (If there are any openings, you can find them here).
If there aren't, never mind, we are always interested in the right kind of people.
WHAT ARE WE LOOKING FOR?
We don't want people who get a case of the yawnies when they are standing in front of a hog. We want people who know what to do with a real motorcycle. Who know how to treat a Harley right, chop her up and rebuild her in style.
Don't worry, you don't have to have a ZZ Top beard or know the Knucklehead parts manual by heart – the main thing is a burning desire to be around hogs as close as you can.
The jobs we have in our company vary widely – but they're all connected with the business of finding the best Harley parts in the market for our customers: We have sales, sourcing, R&D, warehousing, shipping, administration, marketing, IT, publishing, photography among other things under our roof.
We are also offering apprenticeships as merchant in wholesale and foreign trade (Kaufmann/-frau im Groß- und Außenhandel).
Language skills are greatly appreciated in a company that is currently employing Germans, Spaniards, Slovenians, Russians, Kasakhs, Costa Ricans, Brazilians, Italians, Frenchmen and Japanese.
WHAT DO WE OFFER?
Believe it or not, we are just a regular, ordinary company, successfully active since 1979 in the business of selling spare parts for Harleys. If you are working here, there'll be the usual contract of employment. With probation period, employee benefits and all the rest.
However, we have things to offer that can't be found elsewhere:
Every now and then a changing W&W crew visits trade fairs and Harley meetings all over Europe. Sooner than you might think you can be in Norrtälje or Barcelona, two name but two.
Should you be the type who does his own wrenching, you can find all the support you'll ever need with your bike here at W&W. For Harleys we have all the parts just round the corner on the shelves of our warehouse, and a lot of the dudes and dudettes can lend a hand with the trickier stuff. 'Cos even after more than 30 years in the V-twin business we know: A BIKER'S WORK IS NEVER DONE.
That's why we may need just YOU!
WHEN CAN WE GET TO KNOW EACH OTHER?
Whithout promising anything: Let us have your CV, tell us in a few words what you are doing at the moment, and don't forget to mention your motorcycles, if there are any. All of this will be treated confidentially.
If we like what we are seeing, we'll get in touch to see you in person to find out if the chemistry is right. If there are no current openings, or you cannot sign on right away, we'll be ready if things change. And you never know, sometimes things change quicker than you can say mousetrap clutch.
If you are interested, send your e-mail to jobs@wwag.com