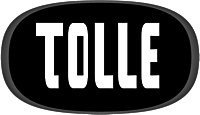 Tolle Adjustable Triple Trees
Far ahead of its time, this famous Swedish design was patented already in 1986. What is unique about these triple trees is that you can adjust the fork angle from 0° to 17° totally variable to get the best possible handling of your bike, no matter what the length of your fork. This takes a lot of guess-work out of the planning of your dream chassis. The riding characteristics and trail remain safe and correct both with a short or with a long fork, due to the unique adjustment possibilities.
Tolle triple trees are CNC-machined from Billet aluminium, which gives better durability. Unlike original H-D and most aftermarket triple trees, the lower part on Tolle triple tree plates feature open slots in the rear to properly secure the tubes.
adjustable
aluminum, polished
* The price includes German VAT (19% or reduced rate of 7% for Books).