Home

IF ERWIN COULD HAVE SEEN THIS...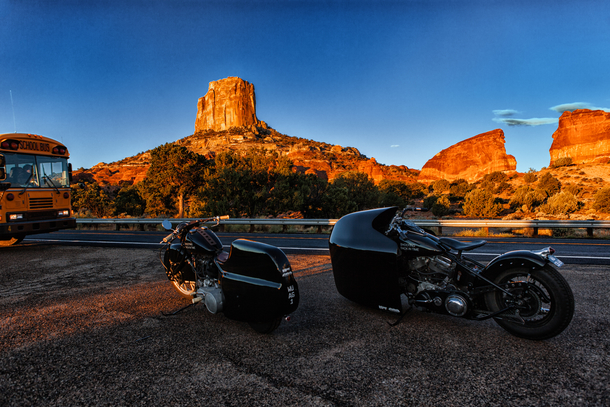 IF ERWIN COULD HAVE SEEN THIS...
If you're reading this, you're very probably someone who has a few drops of Harley blood in his veins. The Big Twin engines that from the mid-30s into the 60s powered the Milwaukee steeds, the big flatheads, Knuckleheads and Panheads are the stuff of your dreams.
Good for you, if you got one of them mills vibrating away in your chopper, bobber, racer, online bargain, barn find or basket case – there's good stuff inside!
BUT EVEN THOUGH LAST MILLENIUM'S MECHANICALS
may seem indestructible, father time has been nibbling away on your engine's innards even when you weren't looking. Every now and then, the Harleyista has to pick up his tools and fix it all again:
EMERGENCY OR TLC – to get a crumbling Milwaukee engine
up and running again is a major feat. So, if you want some real go and no hassle getting it, and want to plan the costs in advance, get the comprehensive solution – a ready to run S&S motor. Dudes do it all the time.
Rebuilding the stock mill to its original specs ain't
no rocket science, still it means a lot more time, planning and some pretty sophisticated mechanical skills. Plus a good measure of luck to boot, because spares may be hard to find, madly expensive or worn down second hand. And if the NOS part that made it unused across half a century onto your bench is still serviceable is yet another question.
Here's the good news:
Parts and components for Flatheads, Knuckleheads and Panheads by Cannonball.
LIKE OLD, JUST NEW
Our business at Cannonball is making authentic reproductions of parts such as engine cases, cylinder heads, cylinders, oil pumps, lifter blocks, camshafts and gear sets.
Everything is specced as closely
as possible to the stock part it replaces. The parts are painstakingly crafted in Germany using the latest technology to exacting tolerances. And we're using raw materials that the Milwaukee Gentlemen could only dream of when they were making the Flatties, Knuckles and Pans of yesteryear.
WE RIDE WHAT WE SELL
Well, we've been around for a few years now, and we know, that words alone won't get you there. So, we test the parts we're making under extreme and not-so-extreme conditions. That's especially true with parts for gearboxes and engines.
All the Cannonball parts
have been installed, checked, tested, run, optimized and then put into the appropriate chassis. We added a few tanks and fenders and let them loose on the asphalt: Here come the Cannonball Knuckle *, the Cannonball Panhead ** and the Flathead-Chopper ***.
THREE MOTORS, ONE RESULT:
Salty sea air on the coastal roads of Spain, tumbleweed slalom across the boiling hot Joshua Tree park in California, brain-deadening miles on German Autobahns, with stop-and-go traffic thrown in for diversion – we didn't spare our test bucks. Still, the trips were fun from A to B. If only Erwin could have seen this...
ERWIN – THE LEGEND IS AN OBLIGATION.
Cannonball is a homage to Erwin George 'Cannonball' Baker who, in 1914 crossed the continental USA from coast to coast in then unheard of eleven days on his motorcycle. (The first attempt of doing this in an airplane took an amazing 50 days in 1911)
Because an engine thunders,
but gets nowhere all on its own, Cannonball also has on stock further components for V-twins just like out of a time machine. There's leaf spring forks, I-beam springer forks, handlebars, WR-style tanks, mag wheels, brakes and fenders. More reproductions and special parts are scheduled for the future
* THE CANNONBALL KNUCKLE
This is the bike that got Cannonball started. Using this machine as a testing mule, we road tested the first Cannonball parts ever made. The supply of spares for Knuckleheads is thin, so no wonder we used a Knuckle first. What became clear very soon: there's room for improvement quality wise. So improve the quality we did.
Many miles and many hours in the workshop, many broken and recast parts later everything was running as smoothly as a flying cannonball. To this day this here bike is logging thousands of miles with the parts of the latest generation, the electric start system, the Mag 12 wheels, the engine cases, the cylinder heads, the camshaft …
Because we think that a testbed bike has a right to look awesome too, we asked Mattias "LeBeef" Anderson to fabricate an aerodynamic steel body back there in the woods of Sweden, using all his metalworking skills with English wheel and hammer and stump.
Here's the result in the harsh light of American desertscapes, also visible in the 2018 catalog.
** THE CANNONBALL PAN
The owners of Panhead-powered bikes are in more or less the same situation concerning the supply of spare parts as the Knuckle owners. So, building on the experiences we had made with the Cannonball Knuckle, we soon had enough Cannonball Panhead parts ready to start building the next testbed bike.
This one got, besides the already proven Mag 12 wheels the new hydraulic drum brake and another example of LeBeef's awesome metalworking skills. This time he did an out-of-this-world dustbin, remarking:"… no problem, it's metal. It does what you want." when we stood in awe before it when we took delivery.
To do it justice, we wanted the best backdrop we could get, and let it loose on Arizona roads shimmering in the heat. See the result in the 2018 catalog.
*** THE CANNONBALL BIG FLAT CHOPPER
One or two seasoned aficionados remarked that with all that steel plate around the Knuck and the Pan, much of the mechanical beauty stays hidden. Well, ain't that the truth. So we decided to build a chopper, this time to showcase the new flathead engine cases, that needed road testing. We opted for a minimalistic approach with an endless springer fork up front as an eye catcher. As soon as the bike was running, we shipped it to Born Free in Silverado, California. From there we went to the dusty Mojave desert out in smouldering Arizona. We learned that flathead engines pull their weight, are reliable, and that cold beer tastes great in the desert.