Home

Shop

Lighting

Turn Signals

Turn Signal Control

Badlands Load Equalizer

The Load Equalizer III

13-397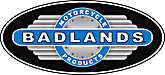 13-397
Load equalizer »III« by Badlands, fits Touring 1997-2013 (exc. Street + Road Glides 2010→), Softail 1996-2010 (exc. FXCW), Dyna 1997-2011, Sportster 1999-2003, 12 V, max. 90 W, USA, gross weight: 140 g
Also features the same functions of the regular Load Equalizer but a built-in solid-state module produces absolutely no heat so it is ok for parade use etc. Moreover the LE III is compatible with OEM alarm systems.
... more
less

For use with TSM/TSSM modules and/or LED turn signals.
Price
incl. VAT*
Available from warehouse Germany?
* The price includes 14.50 € German VAT (19% or reduced rate of 7% for Books).