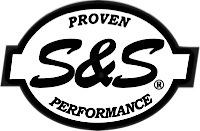 S&S Sidewinder Kits for 89" Evolution Sportster
200 kph with an Evo-Sportster? No problem with this power package by S&S. Our Sidewinder kits are as complete as our Big Twin kits. Each part which is necessary for installation is supplied (except tools). As with all Big Bore kits the engine cases must be machined to accept the larger bore cylinders. Sidewinder kits for Evo-XL also require the combustion chamber to be enlarged making the compression ratio completely dependent on the engine builder. We do not recommend compression ratios above 10:1 for street bikes.
Each kit contains:
11 mm longer 3 5/8" cylinder with forged pistons
complete trued and balanced flywheels
motor mount
manifold
pushrods
all gaskets and hardware
Evo Sportster models 1988–up, which are factory equipped with the one-piece flywheel and pinion shaft, require these conversion parts in conjuntion with S&S Sidewinder or Stroker Kits, because S&S flywheels are using the earlier splined pinion shaft bolted to the flywheel. For a complete conversion you require: pinion gear, oil pump drive gear, pinion shaft nut and lockwasher.
These kits contain cylinder which are 11 mm longer than their original counterpart. Installation of these cylinders requires modifications on the rocker boxes and/or the frame tube.
fits Sportster 1986-1990
bare
stroke: 4-5/16 "
nominal bore: 3-5/8 "
89 in³

S&S Power Kits
Since the first V-twin rolled out of Milwaukee there were people who thought about increasing the displacement in their search for more horsepower and since 1958 there´s none who does this better than S&S. Stroker flywheel assemblies and big bore cylinders, installed as separate components or in combinations allow to achieve various displacement increases. Depending on your personal needs and preferences choose from different kits for increases up to 116 cubic inches. The performance of S&S components has been proven in thousands of engines on the open highways as well as on the race tracks of the world and the brand name is synonymous for highest quality in material and guaranteed positive horsepower results.
Availability in warehouse Germany
* The price includes German VAT (19% or reduced rate of 7% for Books).