Home

MAGNETIC MOTO MAGIC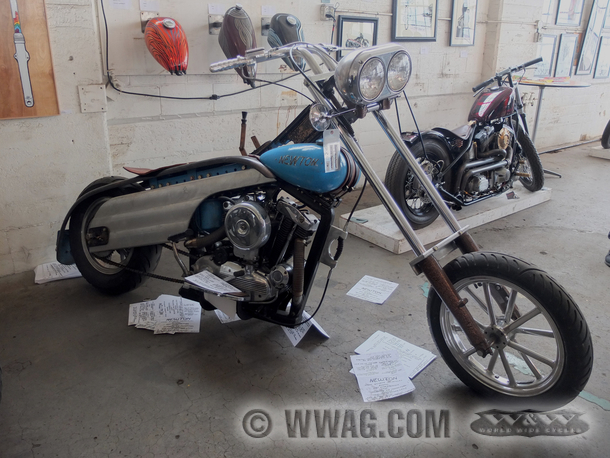 MAGNETIC MOTO MAGIC
Imagine more than 16.000 people winding and log-jamming their way through an adorable industrial building, over in Portland, Oregon. They must have a giant magnet there to pull this many folks; it sure can't be the cheap beer, or the free entry. By sheer luck the visitors got more to see than just the torrential rains that came down on Portland even harder than usual. A biggish part of the exhibition area was flooded, and only a lot of pumps and the return of sunshine on Friday prevented a washout.
CREATE STUFF
THE ONE MOTO SHOW is dedicated to the bike one always wanted to build and ride. Style, make or cubic inches, no matter, the ideas are what counts. Or rather, the stubbornness, the will, the suffering, the long nights, the tensions in the family, the money spent, the nerves it costs, to make this idea become reality in the form of a motorcycle.
GETTING LOUD
Checking out parked bikes is one thing; loud and dangerous metal, wild rides, slippery tracks the other. That's why the One Moto Show has the Sunday reserved for an indoor flat track event. Wild! Magnetic!
THE DUDE BEHIND THE MAGNET
In its eighth year the One Moto Show had to move to yet another, even bigger building. Big brands are there to stake their claims, big bosses are undercover walking about among the custom crowd, inhaling the good vibes. The One Moto Show is gathering more momentum by the minute. The magnetic dude behind all this is Thor Drake of See See Motorcycles, hell-bent-for-leather rider of about anything that has two wheels. And as in the years before, he manages to give us that home-spun family feeling, in spite of the perfection of the bikes collected here. A feeling that makes the longest journey to Portland worthwhile. That is, if your mind was struck at least once by the dangerous spark of wrenching.