Home

Pan-O-Rama

Events

Events Archive 2015

CALIFORNISCOOTING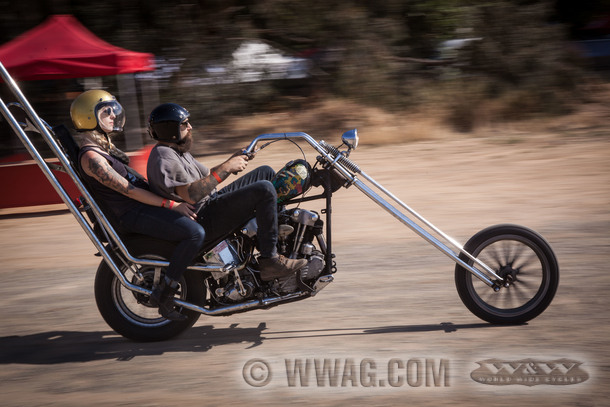 CALIFORNISCOOTING
We were worried. When the seventh edition of BORN FREE, the unofficial world fair of choppers and customized motorcycles was coming along, there was every chance that it would be ground up between the millstones of big business and motorcycle lawyers. To our amazement, the meltdown didn't happen and everything was cool as cucumbers. There's not many places on this planet where such a number of highest level bikes are assembled every year as during these two days on the Oak Canyon Ranch in California, USA.

Our eyewitnesses gave this report:"It's as if someone had been digging through his 70s collection of StreetChopper and Easyriders mags and then hired some PI to round up all those bikes he found in there. Many of them in pristine period condition too!" The pictures we brought back from this journey through time can but graze the tip of the iceberg of the incredible things that happened at BornFree7.

Somehow even the big companies have adapted to the informal style of BornFree. Two years ago HD was all big tents and stockers on display, this time they had a very tasty Chevy stepside pickup truck and a polished trailer serving as office space and backdrop to the builds of major customizers. We say well done, HD.

So it was just as well that we had put some effort too, with our PanAm oil support truck, our Bonneville-inspired Cannonball Knucklehead and our FX Shovel with the prototype Beefybody. Which is a kind of monocoque tank-seat combo, paying homage to the Tracy bodies of the 70s. The fiberglass version will be available from fall in our shop. Both bikes have been really pushed along with the help of Mathias Le Beef of Sweden.

The absolutely overwhelming number of bikes was matched by an evenly monstrous number of booths where everything was on sale from food, drink, trinkets, clothes and whatnot. OMG.

Of course there were the coveted prizes for the diverse competion classes, from "Best Panhead" over "Best Sportster" to "Best Japanese", the highest honour of course being "Best of Show". We'll supply the names of the winners as soon as we get an official list. Our eyewitnesses tell us, that this mega bikefest did not only invite a German builder, but sent him home with the "Best Knucklehead" trophy. Uwe Ehinger of Hamburg, Germany, won it for his amazingly well built "Speedster", a Flathead/Knucklehead hybrid with a distinctive Speedway bias - and an oil-heated seat...

Speaking of "Best of" and 70s homages: Top Man of the show to us was Arlen Ness, who had no less than 24 (!) of his creations shipped from his Dublin, CA, museum, including his legendary Knuckle digger "Untouchable".

We came back from BornFree7 with a lot of new and interesting friends and the conviction that an even bigger BornFree8 with even more bikes and even more folks might yet be even better than this year's edition.