Home

SWIMMERS ONLY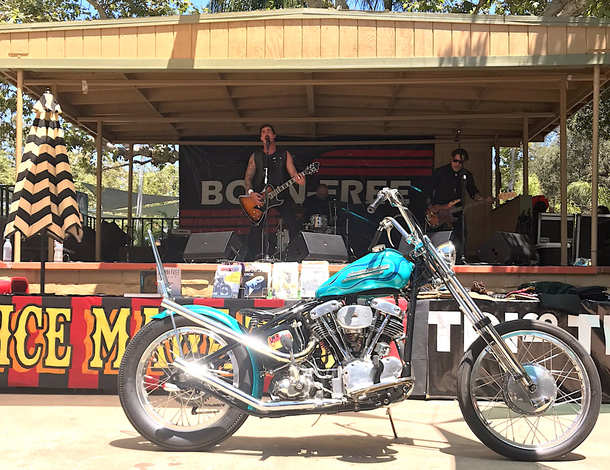 SWIMMERS ONLY
They say, it's a sea. A sea of motorcycles. An ocean of Pacific sized custom madness. Well, let's dive into Born Free 10 custom show and see, if what they say is true. But you better beware of your senses being drowned in this tide of bikes that swept into the Oak Canyon Ranch, California, the parking lot in front of it, the many parties and events on the days and nights before. And don't get us started on the whale-sized crowds that flooded in with them.
This time around we had set up
our small island of European engineering marvels in the midst of the maelstrom, exhibiting our Cannonball line of essential engine components for Big Flatheads, Knuckles and Pans. It's these motors that are forming the hearts of many heart-stoppingly good bikes here at Born Free. Too bad many of them managed to slip through our photographer's nets.
Time rushed by like a storm,
and when we weren't shooting the breeze with old and new acquaintances in the booth, we navigated the seas of people and bikes, and took in the bands shaking their stages and flooding the skate park with their vibrations.
Land was lost out of sight
a long time ago, and we were heaving with the feeling that we had missed the best bike of the weekend. But, we didn't miss it, we spotted 33g kinda early actually, a Joe Petrali world speed record machine inspired super nice 1948 UL bottom with extremely rare Gus Carlheim ohv conversions, no ugly side on this bike, no Sir!, reminding us of our very own Cannonball Knuckle we had here at the Born Free a couple of years back. We just knew that this baby had to be getting the "Best of Show" trophy. Well, and so it did. And after the storm had abated, it wasn't too hard to weigh anchor and set off for home, 'cos we all knew that the globe is round, and we'd be back in a year's time, sailing in again to see Born Free 11.