Home

ROAD TO STURGIS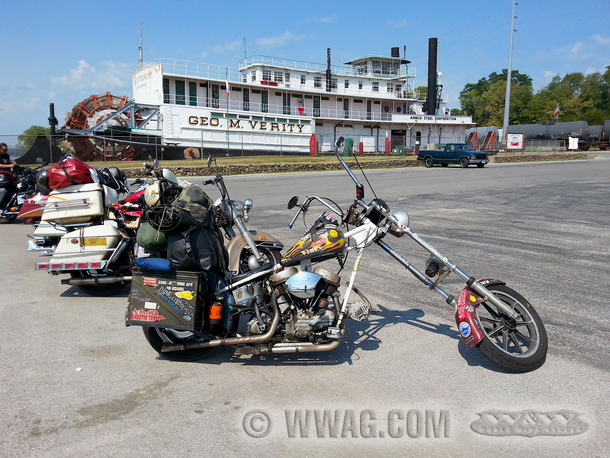 ROAD TO STURGIS
We thought it was time to leave some rubber marks on America's endless highways again. Good thing that we had our good buddy Big Mike living in the place. He had sourced a few awesome sleds for us (our own bikes wouldn't fit into the overhead lockers): 3 Shovels and one Evo, well used, but very much up for the job. So we cruised over to Kentucky, greeted old acquaintances and sorta started the party while waiting for the rest of the guys to arrive: our good friends of Vibes Magazine from Japan who we regularly see at Superrallys. For 20 years they have been making the trip to Sturgis, and this time we decided to come along for the ride for a change.
And "Let's go!" it was, when Toshi, Mino and Hiro finally arrived. With a Pan, 5 Shovels and an Evo we started rolling North, South Dakota way, crossing Illinois, Iowa and Nebraska on our way to Sturgis.
Sturgis? During the year, Sturgis is a sleepy town of 7.000 inhabitants. Once a year though, on the first weekend of August, it is swamped by half a million of bikers. To give a comparison: it's about 5-10 times bigger than Faak. And more or less Harley only. Far Eastern brands are not welcome here. Where an overload of cubic inches meets parched throats, partying is going on on an industrial scale. World class acts like Ozzy Osbourne populate the stages, there's bike shows such as the "Old Iron, Young Blood" show, showcasing work of young builders (under 35), beauty pageants, flat track racing, hill climbing, HD vintage racing, swap meets, beer, and everything way oversized and real big.
For a breath of fresh air we took a ride to explore the Black Hills, and ticked off a few mandatory attractions such as Mt. Rushmore and the Crazy Horse Monument.
After a few days we did feel the urge to hit the road again though, and we pointed our forks back South. The highway lead us through Iowa, Illinois, Indiana, Kentucky, Tennessee and Georgia, on our way to Florida.
The planned visit at our friend's Buddy Bill Dodge house in Daytona had to be cancelled, Buddy still partying away in Sturgis. So we started the bikes again, and rolled leisurely down to Miami, taking our time. Once arrived, we had our new old, and by now long-distance-proven bikes packed up for the journey to Europe, and sunk back in the comforts of the big jet, our brain full of thumping memories of the almost 5.000 miles of we rode since the start (three quarters of them without helmet laws ;-) ), the great times with our friends, and the many good people we met on the way.