Home

CARAMBA, CATALAN!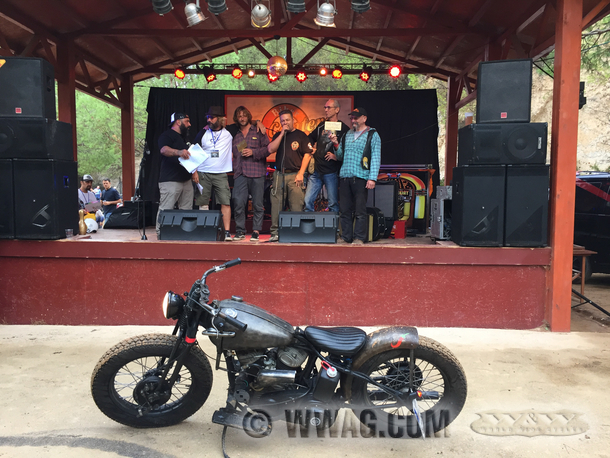 CARAMBA, CATALAN!
A day off from the office to our taste: our Spain branch was looking for some back up for a special mission to Old & Proud, Pre '84 Party #1, everything east of Evo. We got a caravan rolling, consisting of a '46 flatty, two Panheads ('52 and '55), one Ironhead Sportster, and a bunch of Shovels ('75, '76, ' 77, '79 and '81). Before we even got started we had a warm up at the Catalan office. A quiet beer helped to make a plan: get a bite to eat and have another beer etc.
The next morning saw us finally hit the road.
It's 130 kilometers to Calafell,
and we were a quasi pre '84 V-twin cloud, thundering across the boiling heat. The La Cantera bar beckoned, we dropped the kick stands and went into full throttle party mode. First we got a little beer shower to cool us down again, then it was a burnout to the death (victim: a Bates scrambler tyre). OK, so there were real good conversations too about the big questions of life … NOT :)
Darkness fell, and live music filled the old quarry which would do fine in any old Western movie. The wooden shack aka La Cantera bar was shaking from the rhythmic rumble emanating from the woofers, the steep cliffs around it took a beating too, but miraculously didn't come tumbling down.
The next morning it was real hard to get up though. Something was wrong with the noggin. But there's nothing a good Spanish breakfast can't fix. As soon as our vision was straightened out again, we went for a cruise down to the beach. The sea was cool, the beer was ice cold. A little rain was a welcome respite from the heat, but once the evening had come round the weather was fine again. Time for some trophies: There was one for the oldest bike (our flatty), the longest trip to the party, best bike, roundest wheel etc, etc. We tried to drink to every one of them. 
The next morning Claudio's Ironhead had taken the rain personally and wouldn't start. A lot of kicking was going on. The plugs got changed, some more kicking, some wrenching, even more kicking. Then the ancient iron head fired to life again, snorting and farting happily. The special prize for extended kicking performance wentto Claudio.
At last we guided the rubbers onto the asphalt, had a final barbecue at Tommy's, before it was time to go home again. The daily grind was waiting.