Home

CHOPPER ISLAND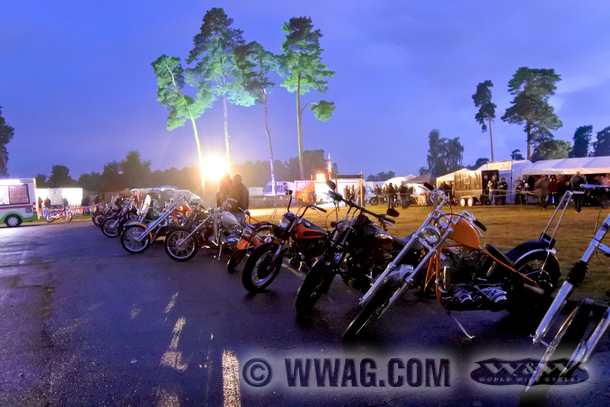 CHOPPER ISLAND
A wild bunch of raindrops, single digit temperatures, sunshine over rolling parkland, mediterranean trees. In the midst of it all choppers, a sweet little swapmeet, a few merchants selling apparel, beer, tasty burgers. Cool music was on. A great weekend at the Trip Out. For some, it is a trip, and a lengthy one too, to the island in the maelstrom of time: Bentwaters Park, where decomposing planes and hangars are the only distraction during the week. For a few precious hours this cold war relic (complete with museum) was an island of good taste in the sea of customizing liberties.
A few hundred weather resistant
dudes and dudettes braved the elements and rode their wheels to show the meaning of: "We love Choppers, Bobbers, Lane Splitters, Bar Hoppers, Baggers, Stockers, Customs, Vans, Hot Rods, Gassers, Lowriders, Trucks & Muscle Cars" - no billet wheels and CNC air filter covers here. An impressive number of road grimed bikes and cars across the brands had made the way to the show field, demonstrating the serious fun their creators had making, rebuilding, painting and riding them.
Serious fun also at the Kick Start
Contest, wild and furious the lineup with names like Little Barrie (UK), Oh! Gunquit (UK), The Victories (UK), Daily Thompson (D), The Sonic Dawn (DK) and BigBoss Man (UK).The beer this year had no trouble staying cold, but Andy is thinking about a cold weather compatible marquee for next year. So maybe you don't have to buy that extra pair of heatable socks after all :) for The Trip Out 2018!