Home

THE SKY IS THE LIMIT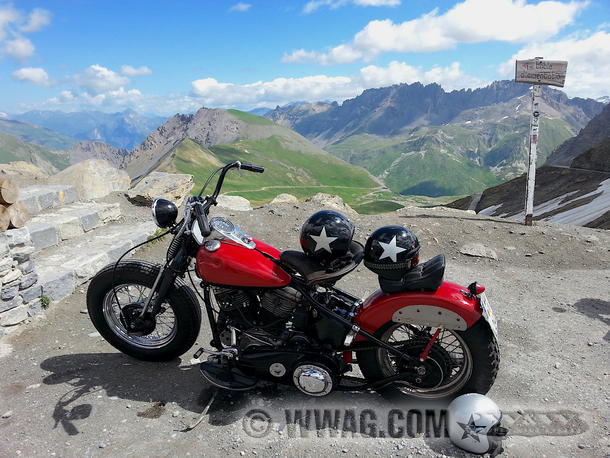 THE SKY IS THE LIMIT
Twisting the throttle on a scenic coastal highway will always give the seasoned Harlista the good feeling of having done something right, no matter where. Today however we'd like to point you to a more vertically oriented way of locomotion. Once a year in France there are many good reasons to go up into the hills. And we don't have in mind the gentlemen with their well tended blood and the streamlined and weight-optimized carbon fiber nothings of velocipede. No, we mean the dudes on their hand built, internal combustion engine driven two wheelers from that notorious town in the American state of Wisconsin.
Punta Bagna Valloire is the name
of the show, taking its name from the alpine peaks nearby. Just as last year, our FURTHER! bus had been grinding its way up the steep ramps and switchbacks for a weekend to touch the sky. There's the best weather ever, mellow vibes, and the fun of ascending one of the highest alpine passes before the bike show. Because, every bike to enter the show has to make its way up into the thin air of the Galibier pass (altitude 2645 meters above sea level). It's the 5th highest paved pass in the alps and a perennial fixture in the Tour de France. Even when you don't have to pedal yourself, this monster of a pass can be a bitch. Going up is one thing, but coming down on a more or less brakeless custom can be a hair raising experience. Period correct drum brakes are all good and well, but going down a steep incline on a heap of more-or-less unbraked Milwaukee iron can be a bitch. Anyone for disc brakes?
The grand prize for making
it up the mountain AND winning the competition this year again was a brand new S&S engine, dropped fresh off the W&W bus onto the stage. Our man in France, George himself, declared Bubu's impeccable Panhead the winner and King of the Hill.Other high points of this weekend were the Girls' Run, the bands, the good vibes, the cold beer, the bikes with the giveaway-engines of the last couple of years, the weather … dude, isn't anything up there, so close to the clouds, a high point?