Home

FULL THROTTLE FOR YOUR EYEBALLS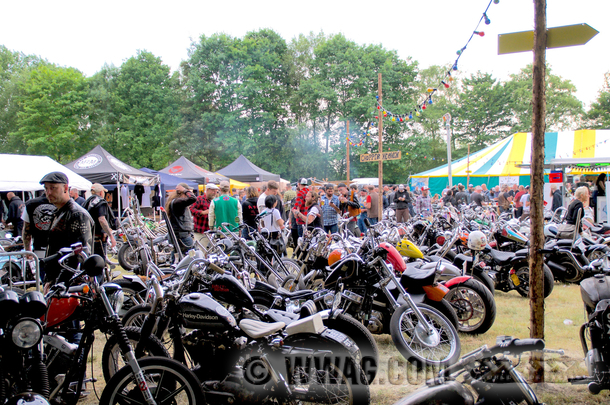 FULL THROTTLE FOR YOUR EYEBALLS
Good thing we kept that receipt of the gas stop when we started for home. It's proof that we actually were there. In Belgium. That it was for real. Cos it was too good to be true. The Flanders Chopper Bash.
The intro on the website gets right to the point: "If you are into vintage choppers and classic bikes you will find yourself in wonderland. All models and makes welcome"
And that's just what it was. A real chopper wonderland. Though everyone was invited, Milwaukee irons were in the majority. Shovels, Pans, Knuckleheads, not to forget Sportsters galore. Not just the show area, the camping grounds too were full of parked choppers, bobbers, you name it, old, very old, so-so old, here and there a stock bike, chopped up Japanese bikes, and all of them right up there in the thin air of high chopperdom, giving everybody who was there a permanent grin. Even the weather gods were having a good time; instead of the promised rain they hauled out the sun, which blazed away happily.
Time was fast forwarding,
when we were doing our best to slow it down by gulping booze, listening to bands, and retelling all those funny breakdowns and tall oil drenched wrenching stories we could remember. Most of the people had come on two wheels, and distance was not an issue. Andy of Flying Choppers had piloted his long forked chop all the way from Finland to Flanders, the other Andy, of Pacoima Motorcycles had left Old Blighty in his Panhead's mirror. Many dudes had come from the island, others from France, The Netherlands, Germany, Poland and so on. The number plates gave a truly all-European picture of chopperland.
The days followed the tried
and tested routine of gazing at bikes until dusk, then punishing the eardrums with DJs and bands. Our favourite noise: The Picturebooks. Not forgetting to leave as much money as humanely possible at the bar, to keep the innards refreshed. Loads of good vibes, loads of good people. Did we dream all this? No, we got the gas receipt. We've got proof that we've actually been there. Flanders Chopper Bash, a biker's wonderland. Only once a year. No-one would believe more anyway.