Home

THIS SHOW HITS THE EYES!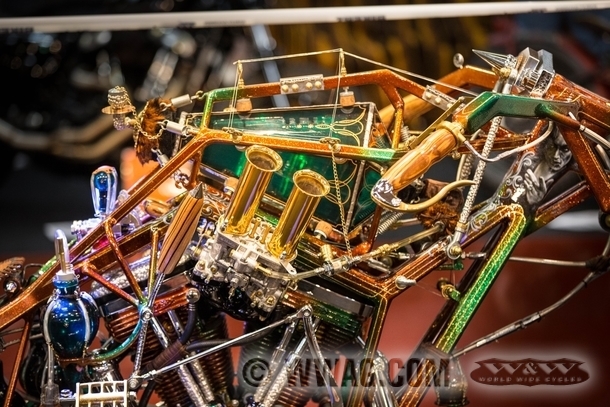 THIS SHOW HITS THE EYES!
This is a custom bike show. No way around it folks, this is not the place to go for barn finds, beautiful "just like off the showroom" old clunkers or museum quality restorations of our favourite Milwaukee brand, no Sir! No, this is the place to find lovingly customized machinery, reinvented and twisted with surprising skills and inspiration to make your eyes water. Plus there's masses of people wanting to see them. Just as it has been for the last couple of years.
New for this year is the special
section dreamed up by the organizers named "Save the Choppers". About thirty elegantly presented two wheelers are hitting the retinas of the interested public, pleasing the fans with endless forks, tiny tanks, twisted sissy bars and upsweep pipes to the moon. Most of them come directly out of domestic production. Amazing work, dudes!
Good for us that we had brought
our latest, the big and long Cannonball UL flattie along. Together with our Bootlegger Sporty, the Cannonball Knuckle, the streamlined Cannonball Pan and our BeefyBody Shovel it showed what you can do with a couple of well chosen W&W parts and some black paint. At times it got real crowded around the Magic Bus, and no wonder, about 32.000 visitors squeezed their way through the Custombike exhibition halls over the weekend.
Those tired of being compression
stroked through the aisles grabbed a beer and parked themselves in front of the Bike Build Off stage to see what the contestants could do. Martin Becker of MB Cycles, Heidelberg, Germany, and Nicolas Pigeyre of EMD, France had their tools well warmed up and gave their best in giving the look of the year to a Harley of their choice. One of them got upgraded with an turbo AND a compressor for some impressive 200 horses, the other got rebuilt in a clean no frills style, which was rewarded in the end with a lot of public votes. Which made MB Cycles the winner on the stage, which saw a lot more trophies this evening: Craziest bike, Best Paint Job, Best Cafe Racer, Best Power Cruiser, Best Old School, Rookie of the Year, several Editors' Choices awards and a Best of Show award.
Meanwhile that our aching eyeballs
have readjusted to the gloom in the parts warehouse, we think our black-painted scooters are really easy on the eyes. Let's see what we'll bring next year to Bad Salzuflen, Germany, so's you can feast your eyes on.