Home

CREEPY CREATURES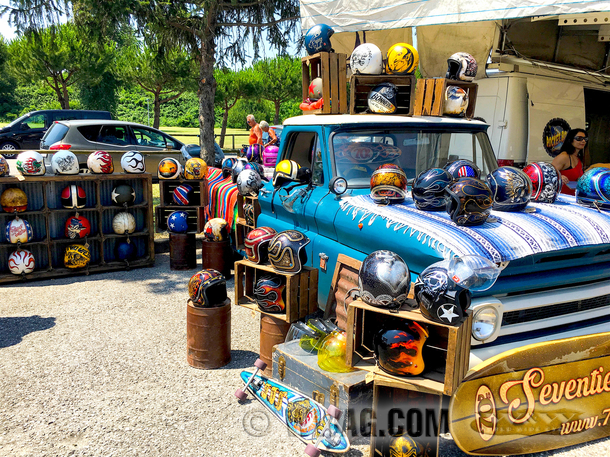 CREEPY CREATURES
Every year, when summer is crawling across the calendar, the Venice lagoon is witness to strange proceedings: people are gathering on strangely painted machines and worship the time-eating monster of Customizing.
It's not just about the transformations of dull motorcycles into exciting creatures of speed, paint and noise, but also helmets, fuel tanks and fenders are barely recognizable after this day.
During the last years these strange happenings were taking place in Jesolo, but this year were centered around Caorle, Italy.
As if someone, or something wanted to keep the creators of stuff away from the lagoon, it rained buckets around Caorle. Those who intrepidly ignored the raging elements had the last laugh, as the sun blazed down on the party.
An international scene was hustling and bustling around the stands: The Metal Factory from the USA, Free Kustom Cycles from Spain plus a gaggle of bike builders from Italy: Boccin Custom Cycles, Ace of Spades, Radical Choppers, Rocket Boy, 70's Helmets and Chopper Kings Clothing.
Eerily quick it was clear who would get the W&W Pick, decorated by pinstriping master Blaster: Boccin Custom Cycles were the winners, with their '47 Knuckle, cool as a bath in a freezing bog. So it wa just as well that the thermometer was hitting 40° centigrades again.
As the humans were roaring home to their garages, the Creature slunk back into the lagoon to rest its tired head on the muddy seabed for the long sleep until next year.