Home

NESS, HE CAN!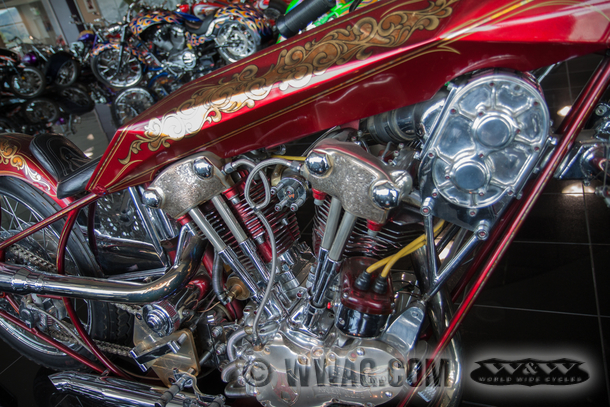 NESS, HE CAN!
You think the custom culture is at an all time high of creativity today? Well, think again. Or better yet, drop in at the private museum of customizer legend Arlen Ness in Dublin, California and take a closer look at his, you might call them, works of art.
Legend, or rather Arlen's blog, has it that Mr Ness had been infected with the custom virus since the start of the 60s. In 1963 he bought a slightly knackered Knucklehead for $300 and went about modifying it. Back then, it wasn't wrenching for years and years for that one moment in eternity, it was more like, let's do this now, and some more later. Every year he went and changed something around that Knuckle engine. From a Sportster tank to a tombstone tank, from drag bars to high bars, he changed the frame, dropped in home made forks, at one point even a Sportster gearbox was transplanted to the Knuck. There were dual throat carbs, superchargers, and, sure enough, the paint jobs were changed quicker than you could say candy apple. In short, a sort of monumental customizing rage. We stand in awe.
It became "Untouchable" when he stopped messing with it in 1977 to try something different. It's his first official custom bike. A rigid digger, a maxed out monument of the then state of the art of customizing.
When things got rolling for Arlen, many around him in the customizing scene did crazy stuff and made it into the chopper mags like him, but Arlen's long distance success was second to none. He had the talent to combine wild creativity with a solid business sense. He always was, and is ready to step beyond convention, reinterpreting even late models. In his long list of jobs virtually every style and trend can be found. Some of his creations will bring cold sweat to straight-and-narrow old school believers, but will command respect for the awesome perfection anyway.
Even today, at 75 Arlen stays a full throttle visionary alongside his son Cory who has been the main creative force for the last decade or two. Now his grandson Zach is already on the gas to drive the business even further. Nowhere better to get the best possible overview of 3 generations of motorcycle designers than in the Arlen Ness Museum.
If you happen to be in California and have just a tiny a drop of customizing blood in your veins, put a visit to the top of your priorities. The address is 6050 Dublin Boulevard, Dublin, CA 94568, USA. www.arlenness.com.