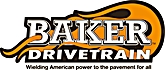 74-313
Starter cover by BAKER Drivetrain, for Hydraulic clutch, for 4-speed transmissions of 1936-86 FL and FX models and BAKER 6-into-4 trannies, billet aluminum, polished, with gasket and small parts, USA, gross weight: 3.72 kg
This kicker cover sports a stock-like appearance and is fully machined from billet aluminum for strength. It features an integrated 1-1/2" hydraulic piston for clutch actuation and comes with a pre-installed kicker shaft, spring and strong BAKER Classic kicker gears.
... more
less
The kit comes with a pushrod for 4 speed mainshafts 1970-1984. If you want to install the kit on 1936-1969 applications, the pushrod must be acquired separately.
Price
incl. VAT*
Available from warehouse Germany?
* The price includes 137.79 € German VAT (19% or reduced rate of 7% for Books).
Spare parts:
57-299 Oil seal, for Pushrod / Nut / Clutch hub, for thin Baker clutch pushrod, steel / rubber, ID x OD: 7.9 x 22.2 mm, 6.35 mm thick, gross weight: 4 g
Accessories:
See also:
PanAm Oil SAE 80W-90 Our lubricant for Big Twin transmissions. This high performance lubricant complies with API GL-4.