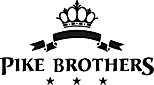 93-479
Beanie »1944 USN« by Pike Brothers, wool, black, gross weight: 100 g
Just right for those colder days. This beanie is patterned after an original 1944 USN Watch Cap. It is known from many period photographs, as it was a standard item favored by sailors and Navy personell. Made from pure wool to 1940s specifications, including the authentic spec. label, sewn-on upside down. Wear it with one big or double turn-up.
Price
incl. VAT*
Available from warehouse Germany?
* The price includes 6.23 € German VAT (19% or reduced rate of 7% for Books).
See also: