Home

Shop

Handlebars

Handlebars for Classic Springer Fork

Flanders Style Handlebars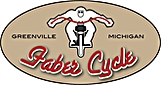 Flanders Style Handlebars
A top notch Old School accessory. Beautiful reproductions of the legendary handlebars which were available as aftermarket accessories during the 1940's and 50's by the Flanders company. Flanders doesn't make them anymore so the talented US-manufacturer Tom Faber filled the gap. Combined with Stelling & Helling risers and upper fork clamp (available separately) they allow for a more upright seating postion which many riders prefer for improved comfort and control. However, they work with most handlebar risers and clamps.
... more
less
Just as with the original Flanders bars you can use 1935-1948 spirals and grips but these have to be shortened to work with Flanders Style handlebars.

Inline vs. Offset
Classic Springer Forks are produced for different frame rakes.
In the beginning, both the main tubes and the steering stem were in the same plane. This is called "inline". The rake is 0°. Of this type were all 45" Springer forks 1936-1957 and all Big Twin forks 1936-1945.
From 1946 onwards the Big Twins had the neck angle increased to 30°. To maintain fork inclination and ground clearance, the steering stem was tilted to the rear by 3°. We call these forks Offset -3°, they were stock on 1946-1948 Big Twins.
When building a bike with ≥+8" extra long forks you don't want the steering neck so high and inclined that the bike is difficult to steer. Therefore such forks are manufactured with a positive rake, i.e. the steering stem is inclined to the front by 3°. We call these forks Offset +3°.
The sketch shows the placement of the lateral tubes and steering stem seen from the drivers place. Now it is clear, too, why there have to be three different types of top trees or handlebars for Classich Springer forks.
Handlebar »Flanders« by Faber Cycle; steel, chrome-plated; wire routing: through handlebar; USA
| W&W# | | | net price* | Available from warehouse Germany? |
| --- | --- | --- | --- | --- |
* United States of America: Tax free shipping. Please check your local import fees.
Accessories:
See also:
LSL Drill Jigs for Handlebars Handy tool for drilling handlebars when installing switches. Prevents drill from slipping and helps to correctly angle the drill bit. The jig is designed to ...

Corotex 800 Fabric Tape This is an acrylic covered rayon fabric tape which can be used in many applications. Back in the days the factory used a very similar tape to fasten wiring ...

Hanson Roll-Up Windshields The story goes like this: when the weather is nice you enjoy the breeze in your face and when it turns bad you wish you had some protection. So what can you ...