Complete and accurate reproduction of the classic H-D Springer fork as used by the factory on Big Twins 1936-49 and on 45" models from 1941–57. Manufactured just like back in the good old times, i.e. with forged legs and connecting components, which makes them equal to the original counterpart concerning stability and service life.
Use these top-quality forks as stock replacement for your restauration or as a part of your chopper or bobber project-bike.
All brackets for brake anchor, front fender and ride control are there and just like stock.
The dimensions of our standard forks are exactly the same as for the original Springer forks (48,5 cm = 19" from center of wheel axle to lower neck bearing seat).
W&W Springer forks for Big Twins are divided in "inline" (1936-45, rake = 0°) and "off-set" (1946-49, rake = -3°) groups and are designed to be installed on rigid frames with stock neck rake.
Big Twin versions feature a fork stem that works with the included centering collar for 1936-up ball bearings. Moreover the stem also features two Ø1" bearing seats for the use of 1949-up tapered roller bearings without any modifications. They are not drilled for the 1948→ steering head lock.
The forks for 45"/750 cc models have a 7/8" fork stem and fit the stock neck bearings.
The "Builder" versions come unassembled with bare rigid and spring forks, chrome or black springs and black rockers.
Length is measured from axle center line to seat of lower steering head bearing.
1.) The pivot point of the brake shackle on the backing plate or caliper bracket must not be positioned vertically above or in front of the wheel axle (driving direction). In this case the moving forces in your fork parallelogram will be reversed and the fork will rebound instead of being compressed when you apply the brake. This will generate very high forces to impact on your rigid fork leg with possible damage.
2.) Caliper bracket or drum brake backing plate must float on the wheel axle. If not, the fork will rebound as well when applying the brake. Result: see above.
fits Big Twin late 1946-1949
steel, internal thread neck post: 3/4"-14 UNS, external thread neck post: 1"-24 UNS
length: 48.5 cm
rake: -3 °
length over/under stock: stock
replaces OEM 45515-46
Europe

Internal Threads on the Upper End of the Legs
For custom riser installation the fork legs have M20x1.5 internal threads at the upper end and accept riser adapter studs or plugs which are available separately; an extra added by the manufacturer which saves you a lot of work and axle grease.

Inline vs. Offset
Classic Springer Forks are produced for different frame rakes.
In the beginning, both the main tubes and the steering stem were in the same plane. This is called "inline". The rake is 0°. Of this type were all 45" Springer forks 1936-1957 and all Big Twin forks 1936-1945.
From 1946 onwards the Big Twins had the neck angle increased to 30°. To maintain fork inclination and ground clearance, the steering stem was tilted to the rear by 3°. We call these forks Offset -3°, they were stock on 1946-1948 Big Twins.
When building a bike with ≥+8" extra long forks you don't want the steering neck so high and inclined that the bike is difficult to steer. Therefore such forks are manufactured with a positive rake, i.e. the steering stem is inclined to the front by 3°. We call these forks Offset +3°.
The sketch shows the placement of the lateral tubes and steering stem seen from the drivers place. Now it is clear, too, why there have to be three different types of top trees or handlebars for Classich Springer forks.
Chromed Springer Forks
Springer forks are pretty complex products which are still manufactured on old style machinery to period specs. They feature lots of tight bends, numerous connections and many hard-to-reach spots which simply cannot be polished to a mirror-like finish with resulting imperfect chrome surface.
Moreover, the applied welding and soldering techniques make the forks prone to oxidation in the aforementioned spots, if not attended regularly. Sometimes even new forks can already show light oxidation here.
To make a long story short: it´s a good idea to frequently apply a little WD40 into the dark corners of your fork, especially after wet rides or steam cleaning, in order to conserve your shiny chrome.
* United States of America: Tax free shipping. Please check your local import fees.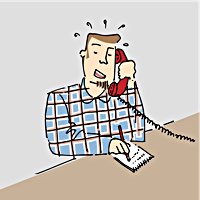 Have any questions?
Our service team will be glad to help out: Mondays - Thursdays 08:00-17:00 CET, Fridays 08:00-16:00 CET, Phone: +49 / 931 250 61 16, eMail: service@wwag.com