Home

BOMBS AWAY IN BACKAMO!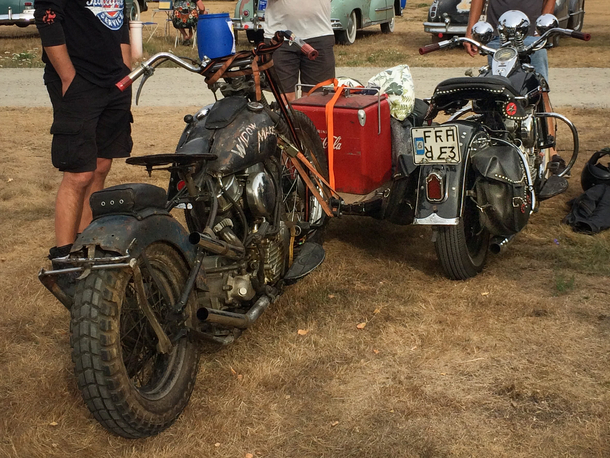 BOMBS AWAY IN BACKAMO!
The shrill alarm rings "A-Bombers"!!! Our special "Wrecking Crew" commandos grab their bags and fire up their machines, Sweden bound. "A-Bombers" is the code name for a bunch of Swedish iron lovers who every year gather round them a load of other lovers of American iron, together with their vintage American machinery.
The magic word is "Old Style Weekend",
when dozens and dozens of dangerously cool American vehicles from the Thirties to the late Fifties descend on the Backamo, Sweden campgrounds. Only those make the cut for the inner circle who roll in on two- and four-wheelers stamp-pressed, iron-cast and brush-painted before the all-deciding 1956 vintage. Our team is well set up with their '41 Knucklehead and '42 Flathead 45". After boiling hot miles of asphalt and a beer-cooled ferry ride they make it to ground zero in time for some serious Swedish partying.
Even the personal styling
is very old style here at the A-Bombers. All and sundry come sporting distinct 30s to 50s garments, tattoos and hairdos, period correct to the dot of an i. Starting with the pomade to keep their hair from fluttering in the breeze and not stopping at the last, painstakingly parkerized washer to keep their rides from falling apart. Our friend Totte from Göteborg is the shining example, having transported his Panhead hill climber plus equipment on the side car frame of his Knucklehead all the way to Backamo. You're the man, Totte! But there's more: whole families use the summer day out to enjoy the sight and rumbling sound of American hotrods, there's cool beer standing in for the cancelled-because-of-fear-of-forest-fires steaks from the vintage barbecues. And there's the crowds, pushing the bands, stomping the floor, flat-out mad!
Come Saturday, the devil takes hold.
32 very select bikes and hot rods go racing at the Devil's Peak Hill Climb. Two timed runs to be raced with times as close together as possible. The girl rider of our flathead and the rider of our Knuckle do their best, eating a load of vintage dust in the period correct proceedings. The 1.000 spectators are covered in clouds of mixofdustsmokedirtrubberandsand (MODSDRAS) every time one of the big V-8s comes roaring up the hill. The only way to defuse such a situation is by washing down the grime with a well earned cold one after the ride, down in one of the bars. More bands reignite the party action firing now on all cylinders. Our crew note in their mission diary: WE'LL BE BACK – THIS PLACE IS A TIME BOMB!