Home

Shop

Handlebars

Handlebars for IOE and V-Models

Faber Cycle Handlebars Board Track for IOE and V Models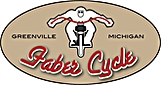 Faber Cycle Handlebars Board Track for IOE and V Models
This handlebar is dedicated to the infamous board track machines of the Teens and 1920s. Only machines of the factory Race Department of Harley-Davidson had these mounted. Due to the pulled-down bar ends you crouch on the gas tank and automatically adopt a racing position, which shoots you back to the starting line of the board tracks of the era.
... more
less
Just as with the original Board Track bars spirals and grips have to be shortened.
These handlebars do not have the #10-32 threads for the outer spiral set screws. You are asked to drill and tap the necessary holes on each side respectively.
Handlebar »Board Track« by Faber Cycle; fits IOE and V Models 1915-1934; steel, bare; measures in cm (rounded) according to drawing: B total width: 72 cm, C center width: 12 cm, H height: 5 cm, height @ bar end: 14 cm, T depth: 17 cm, Bar end straight section: 10 cm; wall thickness: 3 mm; thread: 57/64"-24; USA
| W&W# | | | net price* | Available from warehouse Germany? |
| --- | --- | --- | --- | --- |
* United States of America: Tax free shipping. Please check your local import fees.
Accessories:
See also:
Corotex 800 Fabric Tape This is an acrylic covered rayon fabric tape which can be used in many applications. Back in the days the factory used a very similar tape to fasten wiring ...

Fork Clamps for V-Model Forks Accurate reproduction of the upper clamp for original forks for V-series models. Drop forged steel just like the original.