Home

Shop

Apparel and Helmets

Leather Jackets

Vanson B-3 Flying Fortress Leather Jackets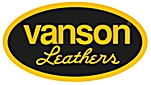 Vanson B-3 Flying Fortress Leather Jackets
Well, we all know those days when the weather is dry and sunny but temperatures are close to the freezing point. Actually this is good riding weather, but with your trusted leather jacket with two sweaters underneath you still feel like sitting in the fridge after 5 miles and you wish you had something that is really up to the job. OK, right here you just found something which will keep you perfectly warm during your little Christmas ride-out. The B-3 bomber jacket was first issued in 1931 for open-cockpit high altitude flying and soon became the iconic aircraft equipment that we still know today. With a loss of 3°F for every thousand feet of altitude, the W.W.II pilots and bombardiers flying at 30,000 feet in the middle of winter needed a seriously warm coat which still allowed to move quickly and which was rugged enough to withstand the harsh environment of a fighting aircraft. This was achieved by combining lamb shearling for the warmth and cowhide for ruggedness. The Vanson B-3 Flying Fortress Crew Jacket is an authentic World War II reproduction jacket, made to original military specifications. It features 100% natural lamb wool shearling with cowhide reinforcements in all critical areas. A map pocket, adjustable side belts, twin belt neck closure and a front anodized metal zipper complete the B-3 jacket.
Leather jacket »B-3 Flying Fortress« by Vanson Leathers; leather, brown, with matching walnut leather reinforcements; USA
| W&W# | | | net price* | Available from warehouse Germany? |
| --- | --- | --- | --- | --- |
* United States of America: Tax free shipping. Please check your local import fees.
See also:
The Heat Company Footwarmers Cold season rides with warm feet are a lot more fun and it's so easy with these insole warmers. They are literally the hot ticket. Just open the package, ...

Moon Rain Gear This set of Moon rain gear comprises jacket and pants which get you covered when the going gets wet. Its elaborate design has various features which show that ...

Vanson Leather Balm Leather Treatment This mellow Leather Balm has been specially formulated with natural vegetable waxes and Neats oil to preserve and protect leather. "The Right Stuff" for your ...