Home

Shop

Ignition

Ignition Wires and Wire Terminals

Ignition wires and wire terminals Custom Universal

Accel Thundersport 300+ Ignition Wire Kits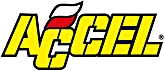 Accel Thundersport 300+ Ignition Wire Kits
Think bigger is better? Think again. A radical departure from anything ever offered for the custom motorcycle builder. Half the diameter of stock wire and extremely flexible. Easy to run through cylinder heads, rocker covers,and frame tubes for a totally hidden look. 150 ohms per foot Ferro-Spiral wound alloy conductor delivers super performance. High gloss 5mm silicone jacket is rated for over 550°F and 60KV. They come packed with two 5 foot leads with 90 degree spark plug ends finished. Just run the wire, cut off excess, and follow the easy instructions to terminate the straight coil boot.
... more
less
Sparkplug Wire Fitment
These ignition cables do not work with Twin Cam and Sportster 2004→ models.
Ignition wire kit »Thundersport 300+« by Accel, silicone, black, 2 x 150 cm, Ø 5 mm, plug boot angle: 90°, coil boot angle: 180°, Ferro-Spiral
| W&W# | | | Price incl. VAT* | Available from warehouse Germany? |
| --- | --- | --- | --- | --- |
* The price includes German VAT (19% or reduced rate of 7% for Books).