Home

Pan-O-Rama

Events

Events Archive 2018

GOT WHEELS?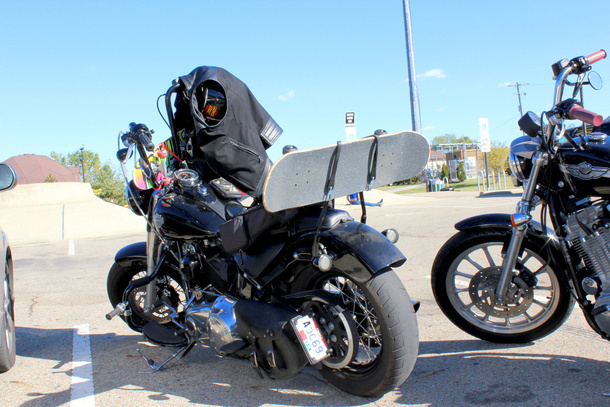 GOT WHEELS?
Foreversixwheels: it's grinding the curbs on four wheels and cruising the night on two of them. Fueled by wrenching bikes, music and the urge to skate the days away a few dudes got together and let it rip. For a couple of precious moments we were invited to come along for the ride through this wild and wonderful world round Columbus, Ohio.

After a little welcome party, the next morning at around eleven we got off to "Ride or Die". Naaah, it wasn't quite as dangerous as it sounds. The plan was to take the bikes around the city's skate parks, give the boards a good shake and move on. There were all kinds of bikes, classic Trumpets and late model Harleys, with some Hondas in between, neatly tweaked to accomodate the all important board rack.
New arrivals kinda corroded
the resolve to move to the next spot, so we sort of gravitated slowly towards the Space Bar later in the evening, for the first of a few cold ones. The Space Bar is THE live music punk karaoke double feature pub quiz venue in downtown Columbus. Its also the perfect spot for talking gasoline, praising the awesome weather and the absence of helmet laws. Someone knew about a hillclimb in the next days, so we decided to get our asses there asap. After this hard decision, we all turned back to the game on the screens. Ohio State University Football beat some other guys 56:0. Yay! We had another round of drinks.
To make time move faster until
the hill climb, the next morning saw us take off to see a few good people we know in the area. First stop was LowBrow in Cleveland. We got Kyle to give us an exclusive tour of their place. We then went to "Don's Hotrods", checked out Don's shop with the help of Don Pilkenton himself (who has won several times the Ridler Award, which btw is the Oscars of the HotRod world). The venerable halls of OD's Cycle Shop/913 Bagger were next, thanks Randy! Finally we took a trip into the "Land of Illusion" funpark, where the Cincinnati Circus was stopping over. They had the "Globe of Death" show going, for those who think that a Wall of Death is too pedestrian. It's a rather smallish orb welded up from bent iron bars and steel mesh, capable of holding several bikes orbiting at the same time. Now that's not something for the faint hearted. We had to have a go for ourselves. Braaammmm!
Oh yeah, the hillclimb!
They had to cancel it :-/ Torrential rain falls. Too bad, but our days had been filled with all kinds of wheeled activities anyway. We can tell you now:
Let those 6 wheels roll! Big thanks to Kalebb and Connie Estep, Theresa and Kenneth, Steve, Nick, Tedd, Mike – and to Aaron Hobgood, who generously gave us his photos to use.