Home

Pan-O-Rama

Events

Events Archive 2015

DO THE DIRT, DUDE.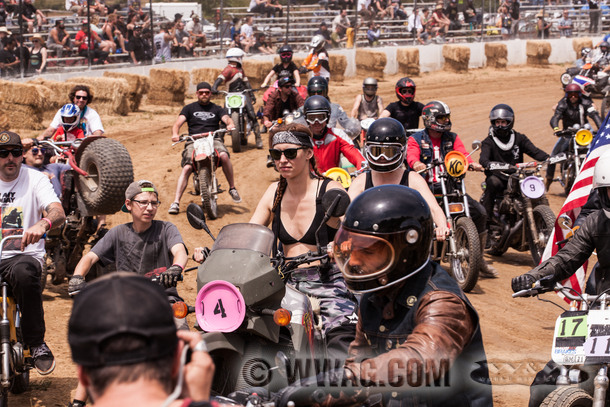 DO THE DIRT, DUDE.
While in Germany an elderly lady in a colourful hat is enough to send the population into a Union Jack-waving frenzy, the good old U.S. of A. have always been celebrating the really great ideas from the British islands: for example the concept of using bikes that were never meant for such a thing as flat track races. For what? That's right, flat track races.

The thing is called Dirt Quake, is an invention of Brit flat track mag Sideburn and has been imported and Americanised by Thor Drake and his See See Motor Coffee Company. In this second edition of the event some major sponsors such as Harley-Davidson, W&W and Lowbrow helped to make it happen.

As you might have guessed, here on the flat track oval in Castle Rock, Washington, USA, the idea isn't so much about positions, prize money and perfection but rather about having fun, eating dust and letting it all hang out.

To have some (sort of) fair competition and to avoid seeing snowmobiles battling pizza slices on wheels there are numerous classes to pick from. The promisingly named "Inappropriate Road Bike" class for example, "Chopper" or, indeed: "Snowboards".

We get our FX registered in the "Harley-Davidson" class. Sounds right to us and we're really stoked to get some go fast, turn left action among like minded speed fiends. Little did we know. More of that later.

With our race number in our pocket we check out the grounds which are filling rapidly. Wherever we look there's a relaxed atmosphere, boys and gals still showing signs of the last long night. We find bikes from completely bonkers to straight stockers. Shovel chops are parked alongside Ducati scramblers. We soak it all in, there's folks to talk to and before we realize it, it's time for the riders' briefing. We readjust our sombreros and let the race marshal have his say.

Meanwhile they have been watering the track, a little overenthusiastically perhaps. That's not a problem though, a few laps of an assortment of pick up trucks, a Ford Bronco and a tractor are force-drying the track quickly.

It's time for the first bunch of wild men. Judging from the long forks they must be the chopper class. It soon shows who has done his homework on his fork geometry. Next is "Inappropriate Street Bikes". One class after the other is going through their heats.

At last it's our turn. We expect a herd of Milwaukee's fattest, but lo and behold, what is that to the left and right of us? A total of eleven thoroughbred flat track sport Harleys. Ooops, wrong class? But, it's "so what!" and "Let's go!" We really get the FX going, but even the flat track experience of our pilot doesn't help: battling against those trackers on a FX is like using a Ford Bronco for a NASCAR race – at Indianapolis.

Well, we could have taken comfort trying out how far we could jump the machine over the jump table – but somehow we liked the idea better to see if we could guzzle down a bottle of well chilled Wrecking Brew in one go. To no-ones surprise a lot of dudes wanted in on this new sport, and we all were talking gas, oil and cubic inches until the cows came home.

Wrapping up we can say that we gave 'em hell for what we were worth. There were no serious injuries, in spite of some crashes, everyone had a load of fun – and, come to think of it: Castle Rock, Washington, USA isn't thaaaat far off. We may be back. Let there be dirt!