Home

Pan-O-Rama

Events

Events Archive 2018

THE ART STUFF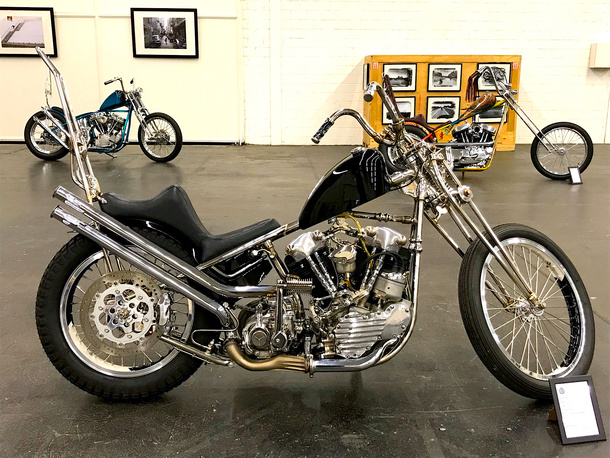 THE ART STUFF
This year's Art and Wheels Basel made it hard to decide where to go: inside they had this hand-picked collection of jaw-suspension threatening pieces of wrenching art. Outside, there were the terrific visitors' bikes, parked in the glorious may sunshine. Anyway, the whole weekend was a feast for eyes and ears. Friday night they started off with the arrival of the exhibitors. There was a common dinner, and then it was off to the pre-party in a local place called "Kaschemme". Even more promising than the club's name (meaning dive, or gin palace) were the evening's headliners: The Lords Of Altamont from L.A. and The Hip Priests from Nottingham, UK, throttled up their electric guitars to get those beer bottles really bouncing, the Lords pumping out a dark mix of noise and grungy depression, while the Priests got to it much more sprightly, and possibly even louder.
Saturday morning was in consequence kinda
hard to wake up to. But there was nothing to be done, the booth had to be set up. Our addled brains had to decide, what went first: the poster? Or the bike in front of it? Eventually, when we had figured that one out, all there was left was to find the switch of the electric arrow. Done! Right, let's have a look at the 20 bikes in the show. Soon we realize that who gets invited here (which includes flights, shipping the bike and accomodation), is way up there with the best of them on a global scale. Exhibit A, Christian's 1940 Knucklehead, a stunning stainless steel sculpture. A shining example of what can be done with a tig welder, 3.500 man-hours and the desire to hide all oil lines in the frame.
We save a special place in our hearts
for the last ever chop to come out of the Flying Choppers shop back in Finland. It's got classic Scandinavian long forks, a paint job straight out of a Hollywood candy store, and minute details (note their home-made Invader wheels) worth hours of admiration. It's a homage to Denver Mullin, using a vintage frame by the founder of Denver's Choppers, the quasi guiding spirit of long forks in the Sixties. After Basel, this beauty will be shown in only one last show. After that, the Finns are off to make "something better and bigger for the bike community". We can't wait.
The show's excellence can perhaps be best judged by last year's Born Free winner, the Swedish home brewed built using vintage engine blueprints by a Husqvarna engineer, which looks kind of normal among the other entries.
As we said earlier on, outside of
the venue the show went on with hundreds of visitors' bikes, many of them having the art stuff, which was confirmed by the "Parking Lot Awards" that were handed out. The main idea was burning some rubber though, so everyone hopped on and went for a nice ride together.
So, what remains of this memorable Basel weekend in our fogged-up brains? We say thanks for the fantastic feast for our jaded eyes, and the friendly hospitality (extra big thanks to Vinz). And we're sure that for two-wheeled connoisseurs the greatest art of all is FRRATT-FRRATT-VROOOMMM!