Home

GO WEST! GO SALZUFLEN!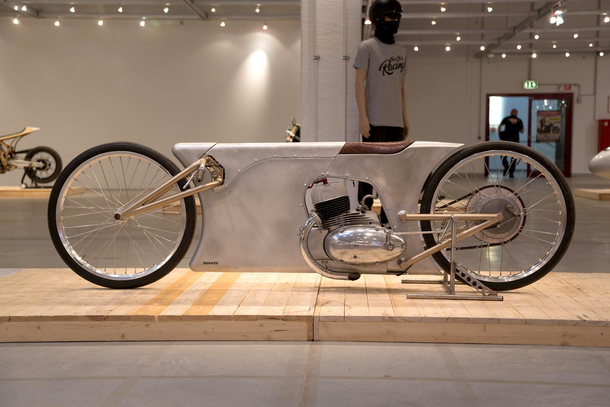 GO WEST! GO SALZUFLEN!
We're pretty stoked, that we could bring our brand new, 100% reworked 2018 paper catalog to Germany's biggest show for customized Motorcycles, the Bad Salzuflen Custombike. We filled it with great photography, shot in the good ole U. S. of A., and even more hot & awesome parts.
At the show there's customizations left and
right, not just the usual V-twins, there's BMW, Ducati, Yamaha, Triumph and others. They all have jumped the custom bandwagon, bought a load of stylish floor space and are showing brand new scramblers, café racers, bobbers, whatever, posing as handbuilt projects. That's what really sells these days, and the Milwaukee gentlemen will have to keep moving. Which they're doing with their new lineup, awesome is the word.
Anyway, there's a whole lot of really fine
bikes in this show, and the usual atrocities as well, but that's the game. What's important is this: Doing it. We brought some of our bikes as well, to show the world our take on the custom universe. There's our long-springer-forked Cannonball UL flattie with the rabbit ears six bend bars. There's the two bikes from our epic "Go West!" movie, the partially streamlined Cannonball Knuck and Pan. There's the prototype of our scrambler kit for Sportsters, the SPORMBLER. Or maybe SCRAMBSTER? :)
This year the people checking in
to our booth were even more tech-savvy than usual, asking the right questions. In our bus we were screening as a highlight our "GoWest" movie, complete with hand-made music and a taste of our own micro-brewed bavarian SNAKE BITE beer. Right across from our booth this year they had
the special "The Art of Racing" show.
Racers, legends from the last 100 years. Street racers, flat trackers, hill climbers, dragsters. Well spaced, so there was room enough to check out every little detail from close up. So much to see, we almost missed the "Biker Build-Off" finale. Winner was the somewhat over engineered build from H-D Würzburg, runner up in 2nd place (with just 21 votes less) was a lovingly cobbled together e-bike chopper lookalike by Wannabe Choppers. Best of Show: a wacky Shovel from the UK. Well done, mate!
All round a good wrenching party.
More than 30.000 visitors were counted. After it was over, we had the feeling that all 30.000 of them had been in our booth. But worry not: we have a few of our new catalogs left, and even the limited edition bandanas and posters are still available.