Home

FAST, FASTER, FASTERWALDE!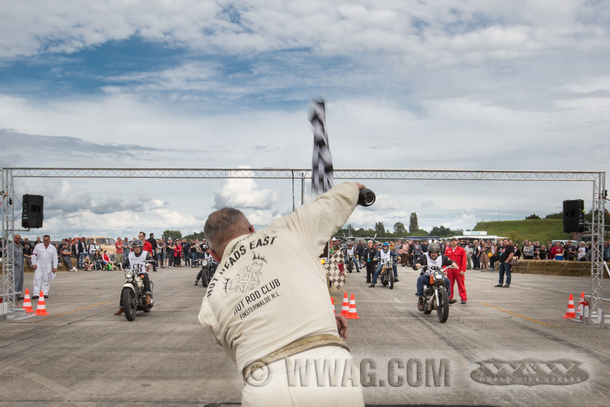 FAST, FASTER, FASTERWALDE!
If you were thinking that Hot Heads East got their name from their favourite pastime of pushing their machines' cylinderheads into the red, think again. In spite of a dismal weather forecast the sun again this year got the revs up and heated the Finsterwalde airstrip (and the participants' heads) to near perfect conditions to make the traditional Headbanging Race possible.
But it's not only the sunshine that makes Finsterwalde a permanent entry in our bike's GPS. There are other events in this country where they seriously pull the throttle cable. But the Hockenheim Nitrolympics and the 1/8 mile up there in Lausitz country are the only events where serious full-throttle-straight-line-motorsport is celebrated. That's because of the very long runway left over from the Cold War where MIGs took to the Eastern skies. Only here the riders can keep the throttle open all the way to the flag. No pastures on the left, and bends to the right that set off those warning bells in the accelerating brain screaming "Don't forget to hit the brakes!". No, it's wide open throttle until the flag with no worries about coming to a stop before the track ends. Which of course is added wear and tear for the vintage and sometimes brittle machines. Some can handle it, some can't.
The field was as usual a first rate collection of hot rods and bikes of vintages not younger than 1958. A first for this year was the newfangled electronic timing. The cars got a fastest time of 7,1 s and a Swedish Panhead clocked a nice 8,1 s over the 1/8 mile.
Perfect organisation made spectating easy, off the track many attractions left nothing to be desired, and Rock'n'Roll bands did their best to finish off the by now rather knackered ears of competitors and spectators alike. The big hangar dancefloor was filled until way late into the night.
If you are the serious speed aficionado, do as the sun and mark the first September weekend next year in your calendar. Headbanging in Finsterwalde. You can't have more fun in two days.