Home

GLADBECK OR BUST!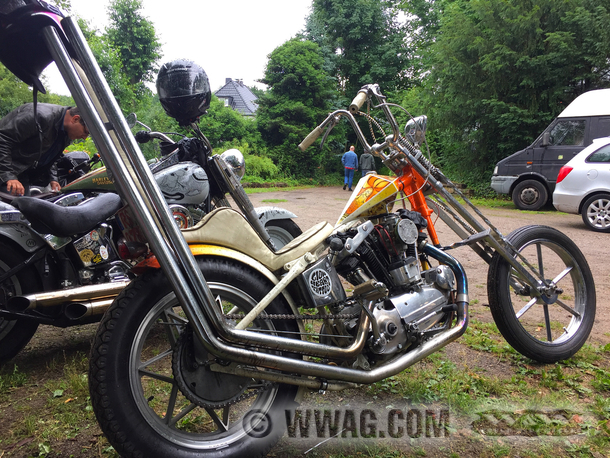 GLADBECK OR BUST!
A broken throttle cable is always #%&§@! With the bike, you push her to the roadside, grab a cold (or not so cold) one from the saddlebag to straighten out the nerves. Then you fix the mother with the spare cable you always carry and go on. If it's the Magic Bus' throttle cable, things get trickier. 150 kilometers after leaving headquarters, the yellow behemoth called it quits. Just when we were on a honky tonk mission: once a year our Gladbeck, Germany branch puts out the invites to their annual "Honky Tonk" bash. We were to bring some pop up furniture in the bus. Bad luck. No roadside fix was doable. But, some heavy shuttling out of Gladbeck got the stuff to the party and us to the well stacked hotel bar late in the night.
The next morning we
found out that the weather gods' throttle cable too had broken. Or maybe it hadn't – we had full throttle rain all day. Still a lot of people showed up, 'cos the Honky Tonk has a sterling reputation, and so in spite of the weather not firing on all cylinders, people flocked to the grounds, dropped their kickstands, and went on to have a party. All the ingredients were there: old friends, faithful clients, inspired rebuilds, Milwaukee's latest, three bands, barrels and barrels of beer and a barbecue to beat all barbecues. True Honky Tonk feeling permeated the humid air, and if the rain had really drenched you, so what, you could always dry your clothes over the wood burning barrels blazing late into the night.
The Sunday had another
band, pinstripers at work and great breakfast with bacon and eggs, coffee and more beer. HonkyTonker # 1, Bernd himself was on the mike, MCeeing through the day and the prize givings. Even the sun made a late comeback and looked in on the show.
Like it or not, we had to
leave at some point, the Magic Bus still waiting for its new throttle cable. 'Cos the next Honky Tonk Party will be here sooner than you think.