Home

SWEDE SURPRISE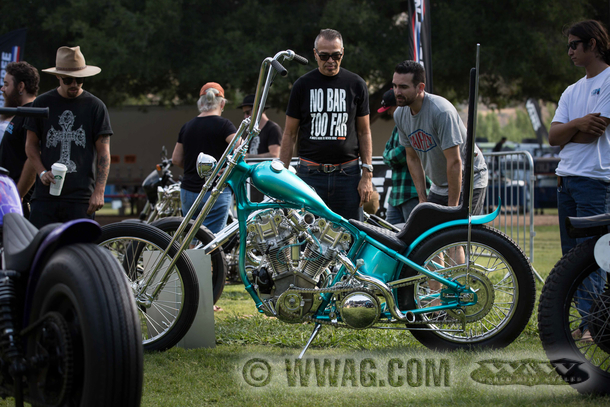 SWEDE SURPRISE
Who said you need a Harley at the preeminent Harley rally of the western hemisphere to make a splash? Sweden's Martin Carlgren sure showed 'em how it's done in the old school/no school/vintage/chopper wrenching community assembled at Born Free 9. OK, it probably helped to be one of the 25 invited builders, but his V-twin would be worth a second look even without this invitation. Acting to his motto "so what if I don't have the money for a real Knucklehead engine. I can always build my own motor" he took a bunch of old blueprints and went to work. The plans are dated from 1948 and originated in Folke Mannerstedt's engineering office. In the 30s he was the mastermind of Husqvarna's engine program, when the company was a successful contender in many race classes: Sixdays, hill climbs, dirt track racing, speed records.
The blueprints turned out
to be rather preliminary, and were not complete, still Martin managed to produce a working engine ("SRM" Swedish Racing Motor, 1000 cc) from them, which he then carefully grafted into a vintage Harley frame. A 1930 VL, to be more specific. This bike is not just about the engine, it's also the brilliant attention to detail in every nook and cranny. Finest chopper building skills, a beautifully simple paint job and bingo, bob was your uncle, or rather, your two uncles, 'cos "Insomnia" not just won the "Builders' Choice" award but also swept up the "Mooneyes Pick", which means Martin and his bike will go to Yokohama Hot Rod Custom Show in December, Mooneyes picking up all the bills.
Two trophies which are all
the more valuable when you consider the absolutely high level of bikes parked under the shady trees of Born Free: fine engines, trick paint jobs and wild chops.
And every year they think up new wheezes. Thursday night they had their first ever dirt track racing, called the Born Free Stampede on the Costa Mesa Speedway with 100 riders in 9 classes: Pull Start Mini, XR 750, Vintage Single & Open Twin, Tank Shift, Ladies, Hooligan and Chopper & a special H-D 750. VraaaOOOMMM!
Also new was "Get down at the Ranch", which is a halfpipe event, sponsored by Vans and grabbed, flipped and tweaked by local and not-so-local skaters.
All over the place attractions
wait for the aficionados. This chopper fest in the California heat covers all the bases, even those you didn't know were there. There is a separate show, just for FXRs and Dynas with FXR fairings! These so far completely ignored fringe-dwellers of the custom scene have at last been dragged into the lime light to feed the ever hungry hype machinery.
A few generations older
than these classics was the bike in our baggage to Born Free. We brought our shiny black Cannonball Big Flatty "Remember Black Beauty" chopper. In our tent behind the bike we had the Cannonball engine parts on show that went into this long forked beauty, attracting celebrities such as Jim Leineweber of racing and camshaft making fame, or Cole Foster, part of the Salinas Boys.
Around practically every second bike
parked under those lifesaving shady trees, our guys met old friends from the international wrenching community. There was an unspoken consensus, that however you look at it, Born Free shines under the glare of awesome customs, be it Harleys or Japan bikes, weird wrenchings and mythical barn finds. A laid back family weekend for the hipster builders of this world. VraaaOOOMMM!