Home

CARDBOARD, BEER AND NOBODY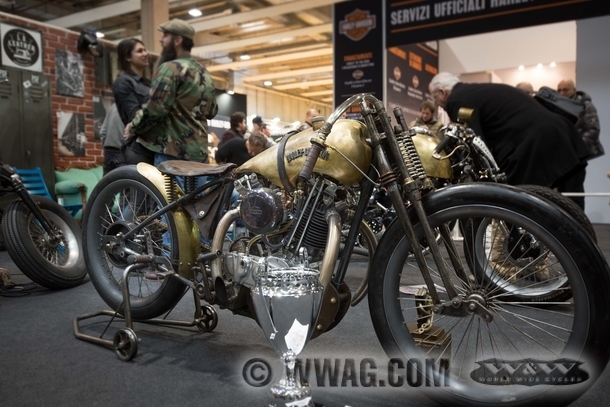 CARDBOARD, BEER AND NOBODY
So what have they been wrenching during those long cold winter months down Italy way? Remember, there are more ways than one to do it to your hog: at the Verona MotorBikeExpo this year they even had a bagger with a cardboard fairing and body kit, complete with silver spray-can paint job. This is recycling taken serious. Of course the fair was crammed with plenty of the classic stuff too, with hot new production models and neat custom jobs. The retro look is being embraced big time by an ever growing segment of major manufacturers.
NOBODY WANTS A BEER
It's a rare sight to meet a celebrity known beyond the wrencher and customizer community in a place like MBE. There was a stir among the over 160.000 visitors to know that 80s spaghetti western movie icon Terence "My name is Nobody" Hill had dropped in for a walkabout. Our friends Marco and Barbara of Wild Hog Leathers guided him around the place and brought him to the W&W Magic Bus for a well earned cold PanAm StarkÖl. Need to stay hydrated from a certain age on, you know :) . After downing the well chilled cold one, and chatting with people on the bus, Mr. Hill departed well rehydrated.
CIAO TIL 2018
As usual the MBE was the right place to get updated on the style trends down South. We had a lot of good talks with friends from the area, checked the working order of our tastebuds on fine Italian food and went home feeling ready for another exciting custom year in Europe.