Home

25th YOKOHAMA STYLE COUNCIL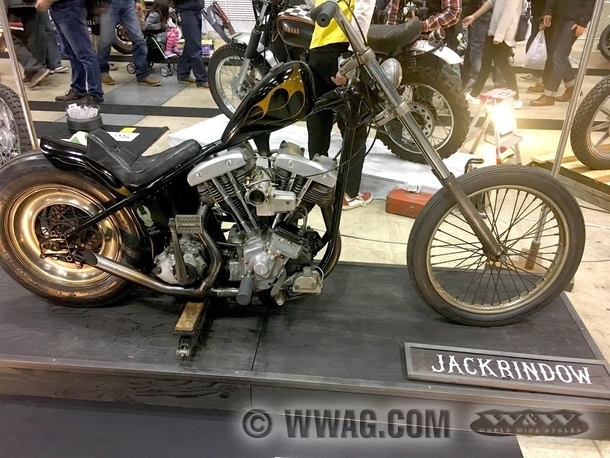 25th YOKOHAMA STYLE COUNCIL
For 25 years now, the heart of the Japanese wrencher scene has been beating in Yokohama. For the latest edition of the Yokohama Hot Rod Custom Show had everything essential of a true legend. Starting with the sheer number of bikes present, imagine 650 breathtaking bikes, and just one day to see them all, not counting the 300 custom cars, over 300 vendors' stalls, 30 booths crammed with collectors' items, 50 pinstripers at work, 40 scale model enthusiasts, 80 entrants for the paint shop competition. Enough to get slightly weak at the knee. Did we mention the pre-party, the pre-pre-party, and live bands such as Jackie and the Cedrics, The Minnesota VOODOOMEN, Lulufin the Woohoo and The Elcaminos?
To make the thing even more noggin-boggling, they give away 101 trophies and prizes during the day. No wonder people start to queue early in the morning. To get all this done, they invented this time-saving tradition at YHRCS: selected builders have to ride in on their creations, no matter if bike or car. The constant rattle and roar gives a good vibe to the place from the start. We leave the talking about the scope and quality of the bikes to the pictures and the list of awards further below. No, not all 101 of them, just the bike awards. Just to give you an idea what's parked on and off the stage. Our very own W&W Cycles award went to Custom Works Zon's 2016 Knucklehead Turbo.
Our tip for the Hot Rod Custom Show 2017: don't miss it, be early, bring comfortable shoes.
Best Motorcycle American:
1973 Harley-Davidson Sportster, Suicide Customs
Best Motorcycle Domestic:
1983 Yamaha SR400, Candy Motorcycle Laboratory, Mr. Yokoyama
Best Motorcycle European:
2017 BMW G310R, Wedge Motorcycle, Mr. Nihira
Chopper Journal Magazine's Pick:
2015 Harley-Davidson Dyna, Ken's Factory, Mr. Nagai
Hot Bike Japan Magazine's Pick, Art of Speed Malaysia's Pick:
1975 Harley-Davidson Shovelhead, Hide Motorcycle, Mr. Togashi
Street Bikers Magazine's Pick:
2016 Harley-Davidson Street750, Shiun Craft Works, Mr. Matsumura
Vibes Magazine's Pick, Chopper Dave's Pick:
1977 Harley-Davidson Shovelhead, Swallow Tail, Mr. Sakurai
Roller Magazine's Pick:
1936 Harley-Davidson EL, Hawgholic, Mr. Yokomizo
Ripper Magazine's Pick:
1978 Harley-Davidson FXS, Crib Motorcycle, Mr. Ogawa
Dice Magazine's Pick
1951 Triumph T100, ARROGANT-LUNGE, Ms. Chiru
Low Ride Magazine's Pick, Free Kustom Cycle, Spain's Pick:
1983 Harley-Davidson FLH, Cherry's Company , Mr. Yoshiyasu
Chop and Roll Magazine's Pick
2016 S&S Knucklehead, Fatboy Design
Jeff Holt's Pick, Yaniv Evan's Pick
1992 Harley-Davidson FXR, Bootleg , Mr.Sekiya
Jeff Leighton's Pick
1947 Harley-Davidson WL, Freewheelers and Co. Sushi Atsushi
Arie Vee's Pick, Rico Fodrey's Pick
1975 Harley-Davidson Shovelhead, Kustom Paint Rise ., Mr. Sato
Ryan Grossman's Pick, Dynamite Joe's Pick
Harley-Davidson Panhead, The Fever/ Sunrise Cycles, Mr. Takase
Max Schaaf's Pick
1973 Harley-Davidson FX Shovelhead, Haunt Motor Cycle, Mr. Noguchi
Kiyo's Pick
1997 Harley-Davidson Evolution, Custom Works Zon, Mr. Hirose
Oliver Jones' Pick, Born Free's Pick
1961 Harley-Davidson FLH, Cycle West, Mr. Nishiyama
Cycle Zombies' Pick
1946 Harley-Davidson FL, Hawgholic, Mr. Kawasaki
Aki Sakamoto's Pick
1998 Harley-Davidson XLH883, Asterisk, Mr. Okazaki
Michael Lichter's Pick, W&W Germany's Pick
2016 S&S Knucklehead Turbo, Custom Works Zon
Jeff Decker's Pick, Best of Cafe Racer
2009 Buell XB12SCG, Ask Motorcycle supported by Bill Wall Leather, Mr. Tanaka
MB Leathers' Pick
1953 Harley-Davidson FL, Lucifer, Mr. Natsuki
Gabe Griffin's Pick, Retro Classic Cycles' Pick
Harley-Davidson Knucklehead, Brat Style
Harpoon's Pick
1994 Harley-Davidson Evolution, Shiun Craft Works, Mr. Matsumura
Fartco/ATR's Pick
1941 Harley-Davidson Knucklehead, Blue Groove, Mr. Yashiro
MOONEYES Shop BKK, Thailand 's Pick
1974 Harley-Davidson FX, Orange Speed Shop, Mr. Ishida
Coker Tires' Pick
1948 Harley-Davidson FL, Barber-Cycle, Mr. Takata
Dan Collins' Pick
1939 Indian Sport Scout, Brat Style
Andy Carter's Pick
1972 Harley-Davidson FL Shovelhead, Jackrindow, Mr. Okumoto
Early Bird Award
1972 Triumph T120V, Strainer, Mr. Kado