Home

ADVENTURES ON A TIME MACHINE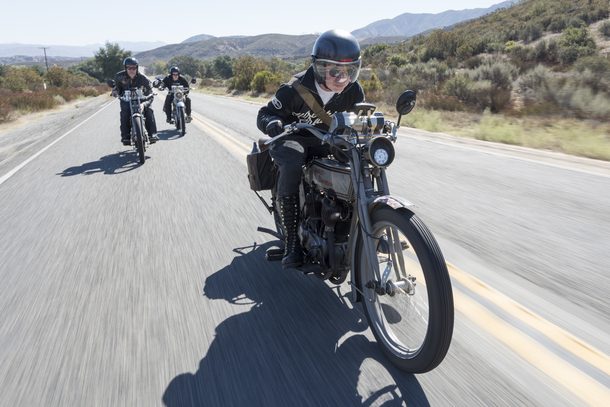 ADVENTURES ON A TIME MACHINE
After the raw patches in the seat of our pants finally have stopped vibrating it's time to look back on the 3.304 miles of the Motorcycle Cannonball Race of the Century that's just come to a close.
It's tough enough to go on long runs on rigid choppers, to spend freezing nights in clammy tents, or to go round dirt ovals on rigid trackers testing the limits of their knobby tires. But what our man Paul did on his 100 years old 1915 Harley-Davidson is in a class of its own.
WHO'D DO THIS? AND WHY?
Why would anybody want to cross the USA, all 5.300 kilometers of it, on a motorcycle that's seen 100 years already. And why would Paul do things like that? Simple: he got invited. Every two years a small community of about a hundred friends of antique motorcycles meets to do again what one man did way back, writing motorcycling history. In 1914 Erwin George Baker had crossed the USA on his motorcycle, taking eleven days from San Diego to New York. For the time a barely believable feat, and only one of the many records that got him the name Cannonball.
This year the direction of the trip had been reversed, starting in Atlantic City and ending in Carlsbad, California. There was more time too to cover the distance, the riders had 15 days on the road and a rest day in the middle. Compared to Cannonball Baker's time of eleven days that was almost comfortable. Or so it seemed at the start.
THERE'S NO TURNING BACK
At the start in Atlantic City everything looked like a congregation of collectors of very old motorcycles. Or rather like the concours d'elegance before a million-dollar auction of motorcycling legends. Almost 100 bikes, each older than 100 years. Machines and marques that can be found, with luck, in specialized museums. On these brittle beauties those guys want to cross the North American land mass? Brands like Henderson, Indian, Sunbeam, Reading Standard, BSA, Norton, Matchless, Warrick were here. With our 1915 Harley Davidson Model 11 F we were almost lost among the 17 (!) 1915 Harleys that had been lined up. This alone was almost beyond belief. Most senior of the bikes was a 1904 Rex. 
But they all knew what they were in for. They thought. Our rider Paul had hand built his steed. Starting with a 1915 engine that had been waiting our offices since the 80s for its resurrection and a frame he had in his shed, he started building in earnest when the Cannonball invitation dropped into his mailbox. 18 months of wrenching, a few test rides and #106 was ready to hit the road.
TROUBLE AHEAD
The first 152 miles ran like clockwork. In the evening #106 got the usual service, oils got topped up, grease was applied to all the joints and the chain. It looked like this was gonna be a walk in the park. In the morning the bike got a quick once-over and was back on the road. The service vehicle had to take a different route, to avoid the possibility of roadside assistance which was illegal according to the rules. It was a bike race after all, not a bike service contest.
So Paul was droning through the American scenery, all alone, when his brain noticed a slight disturbance in the V-twin's rumbling. Stopped by the roadside he inspected the open valve train of his IOE engine and found a broken valve spring collar on the rear intake valve. What now? Paul's been to Cuba a couple of times and has learned a valuable lesson: improvising is much better than just waiting around. A big washer from the on board tool box was pressed into service, and with a few little mods was made to work as a replacement valve collar. Paul was back in business, and actually made it to the finish line. In time. Respect!
SHAKE, RATTLE AND ROLL
We were able to fix the valve spring collar issue with the friendly help of rider #26, Thomas Trapp, who had a spare in his tool kit. Still, the bike was not well, as Paul finds out the next morning. So he abandoned the stage, to fix the ailing engine properly before it could self-destruct completely. No points today, but we still had a bike that will fight another day.
How fast total breakdown can happen could be seen every evening, when the sweep trucks came in with the broken machines. One of them has had real bad luck: gas leaking from the tank ignited and the whole bike burned to the ground.
#106's luck was better, but the broken valve spring collar was a portent of things to come. Valves were breaking just like that. Not as bad as on the bike where the cylinder was perforated, but still, we had our hands full. We were getting some real routine fixing broken valves. Another major problem was the broken shifter pivot on the soldered tank. Not having the proper equipment, we used a desperate trick: metal putty. Still, it worked. Let's go!
THE FEAR
But it weren't just the technical imponderabilia that the riders had to stay atop. It was also worries like brutal heat above 40° centigrades, torrential rain, local dust storms, endless mind-numbing straights, gas stops so far apart that only auxiliary tanks prevented getting stranded out in the boondocks. Even for seasoned long distance riders like Paul this was no picknick. To make matters worse, the race was taking place on modern day public roads. Not every trucker in a hurry knows how to appreciate the rarity of a 100-year-old motorcycle, not on a long incline, not on a 6 lane highway, not at a red light. OK, so they had weather in Erwin Baker's day too. There even was traffic (well, some). But traffic lights were a thing unknown then, and manufacturers were unable to foresee them clogging up the landscape 100 years into the future. Heat kills engines, especially when no cooling breeze helps to dissipate it. Not surprisingly, some riders spontaneously developed a red-green colour blindness and left the red lights to the following traffic.
BIG BOYS DON'T CRY
If you had ridden, like Paul, on your 1915 Harley across the finish line after 15 days in the saddle and had witnessed a great and emotional reception by cheering teams, fans and friends, you'd not only have written 3.304 miles of motorcycling history, you'd also known that it was over. Over was the time of dreamy backroads, monumental landscapes, close knitted friendship and help among co-riders, solitude in the saddle; over the strained listening to the noises emanating from the engine, over the nightly wrenchings in unlikely places, over the hope for less rain, less heat, more green lights, a softer seat. In short, it was over. The Motorcycle Cannonball Race of the Century was over. Over, but unforgettable.