Home

MIXTASTICO!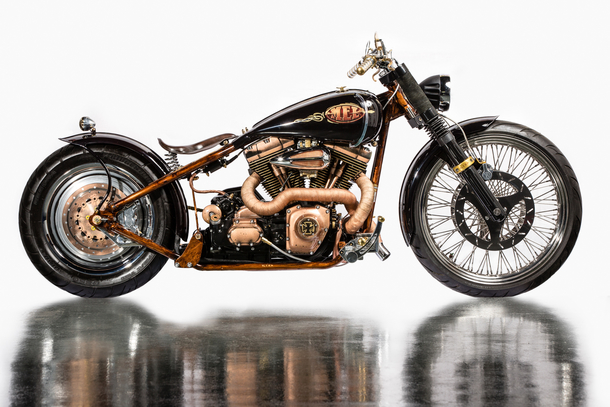 MIXTASTICO!
¡Mixing it is no dark art, but to take it to the level of an art form needs a little magic dust. Especially if you named your bike "Baba Yaga", after a mystical witch.
MEL Custom in La Nucia, Alicante, Spain has been the Go-To place for years for those special projects. Baba Yaga is no exception here. MEL with their witchery skills mix and match smoothly what on other bikes would clash violently and cause wrenchosophic disputations.
Let's begin the magic concoction with the rigid frame, which usually is the starting point for any old school project. Here, a 2004 Electra Glide mill, hopped up with S&S cams and reinforced valve springs (for some healthy 100 horses from 1450 cc) gets jammed into the space where usually Panheads or Knuckles reside.
Up front they dropped in a 23" stainless steel rim with dual 13" discs for some serious stopping power. The brake juice gets magically routed to the calipers by way of the inside of the lower triple tree. In the back the mix goes for a more classic approach with a wire wheel getting the power to the tarmac. The Moon spoke covers are the magical trick here.
While we're here in the back, lets take a look at the (yes, it's home made) rear fender. A neat taillight crafted from massive aluminium and brass crowns that well balanced rear end.
The same metal mix lives on the retro handlebars. The 24 carat gold acorn nuts that keep those bars in place are populating the rest of the Baba Yaga too.
Definitely worth a second look are the custom made exhaust pipes who would do fine in any Laocoon-fighting-the-sea-serpents impersonation contest, winding their way from the back towards the front. Similarly contorted, but magically hidden away are the electrics. The only prominent parts are the ignition coils which dwell under the Mesinger seat. But back to the electrics: the battery has been spirited away into the tank, another bit of proof that MEL are the guys for the unconventional.
The paint job beats all of this though. The base layer of red and copper is far out already, but a magic top layer of something called TempPaint covers most of it. When temperatures pass 30° celsius, the TempPaint layer changes from opaque to transparent to reveal the underlying artistry. Good thing that no conjuring is needed for temperatures above 30° in Spain.
Let's see: MEL Custom have done a truly bewitching job with Baba Yaga, mixing old and new, materials and paint to create a piece of artisan excellence out of the ordinary. A combination that would be best described as ¡mixtastico!