Home

Shop

Brakes

Drum Brake Front

Custom

Kustom Tech Mini Front Drum Brake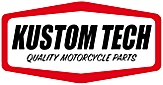 Kustom Tech Mini Front Drum Brake
Mini front drum brake for choppers and other stripped-down bikes which due to its small size develops only moderate braking power. The drum is made from cast iron, a material with a high coefficient of friction. Circumferential cooling fins help to dissipate heat and yield a nostalgic look. The 130 mm inside diameter of the drum is CNC-machined to guarantee a perfect fit of the brake shoes. The two side covers are made from aluminum. Requires special spokes which are also available.
Drum brake »Mini« by Kustom Tech, cast iron / aluminum, chrome-plated, width: 80 mm, Ø 160 mm, front, with 3/4" wheel bearings, Italy
| W&W# | | | Price incl. VAT* | Available from warehouse Germany? |
| --- | --- | --- | --- | --- |
* The price includes German VAT (19% or reduced rate of 7% for Books).
Spare parts:
27-007 Ball bearing, for Wheel hub / Front wheel, with Kustom Tech Mini Drum Brake, ID x OD: 3/4 x 1-5/8", 7/16" thick, gross weight: 62 g
Accessories:
See also:
IK Works Narrow Style Triple Trees Create a unique look and combine your 41.3 mm fork legs with these narrow style triple trees which are CNC machined from billet steel. After installation ...

Front Wheel with Mini Drum Brake Complete, ready-to-install front wheel with Kustom Tech Mini drum brake hub. Built from a chromed cast iron hub and brake drum combination, stainless steel ...

Bates Reducer Bushings 19→17 mm When working with a 17 mm wheel axle in a 19 mm environment these reducer bushings are very useful. Can be inserted in wheel bearings, Springer fork rockers, ...