Home

Shop

Handlebars

Handlebars for IOE and V-Models

Faber Cycle Handlebars High 1929-1930 for IOE and V Models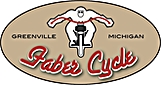 Faber Cycle Handlebars High 1929-1930 for IOE and V Models
Excellent reproduction of the factory handlebars as used on 1929-1930 electric models. Correct for 61" and 74" models of this year group, however they fit all IOE and V models 1916-1934.
Handlebar »High 1929-1930« by Faber Cycle, fits IOE and V Models 1916-1934, steel bare, measures in cm according to drawing: B total width: 84 cm, C center width: 15 cm, H height: 20 cm, T depth: 33 cm, replaces OEM 3307-29, USA
| W&W# | | | Price incl. VAT* | Available from warehouse Germany? |
| --- | --- | --- | --- | --- |
* The price includes German VAT (19% or reduced rate of 7% for Books).
Accessories:
1911-1934 Grip Sets Stock replacement grips of the J-Model and V-series era. In those days the factory delivered new bikes with white grips. Black grips were offered later as ...
See also:
Corotex 800 Fabric Tape This is an acrylic covered rayon fabric tape which can be used in many applications. Back in the days the factory used a very similar tape to fasten wiring ...