Home

STOKED TO THE MAX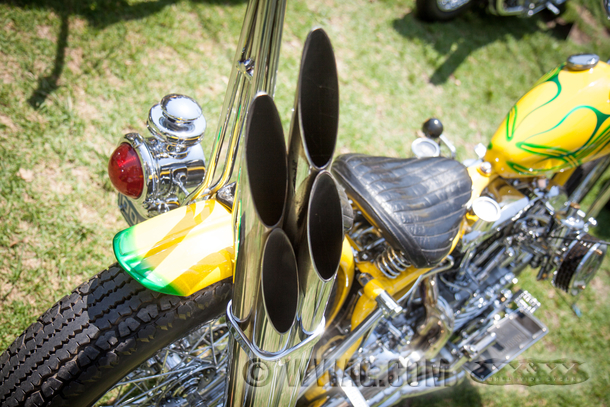 STOKED TO THE MAX
Se está trabajando en la versión española de ésta historia llena de cilindraje, que apesta a goma quemada, impulsada por V-Twins para que esté en línea lo más pronto posible. Mientras tanto, tómese una cerveza o mejor dos.
In case you spent the last 8 years on another planet with no Internet: Born Free is what you get, when a couple of dudes meet in a parking lot with their bikes, and 5 gazillion other dudes want to see what they're up to. Born Free is THE benchmark event for classic chopper aficionados, classic choppers and their artful customization. Period. Small wonder that a few Harleys snuck in there too :)
OK, so there is an ever growing tide of custom bike events rolling around the globe faster and faster. Love it or hate it, but we are every year stoked to the max when we check out last year's (or last week's, you can never know) production of beautifully wrenched motorcycles rolling onto the streets of California from backyard shops and garages to the Born Free grounds.
If you want to dig the world's best, most twisted and downright wicked chops, look no further. They're all here, and if they're not here, well …
The big boys in the industry, namely the Milwaukee producers of fine motorcycles have caught on to Born Free's vibe, left their big glitzy marketing-driven show tents at home and brought some authentic, vintage stuff. A nice move by H-D, which wasn't lost on 10.000 spectators and friends of refined customization, gathered here in the South East of Los Angeles, California, for the weekend.
High point of this customizers' fantasia is, as usual, the judging of the bikes that have been expressly built for the event. This time they had around 30 of them lined up.
If you look real close (or just know, as we did) you can find our Cannonball 12-spoke on Uwe Ehinger's "The Chopper" Knucklehead, and our Cannonball engine cases in Arie van Schyndles Knuck. Which floated to number two in the ranking.
If you ask us, Born Free can go on like this forever.