Home

KOBE OR NOT TO BE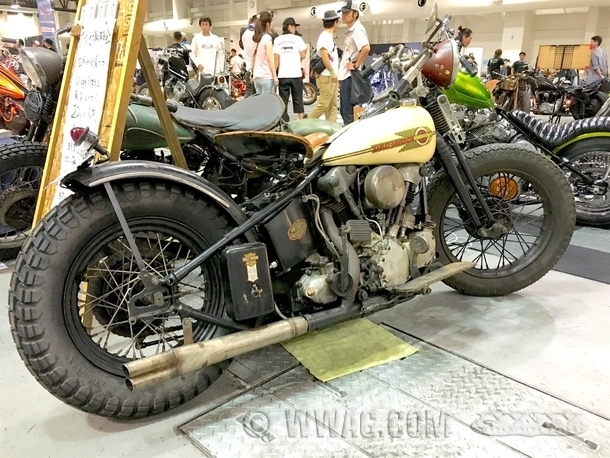 KOBE OR NOT TO BE
La version française de cette histoire forte en cylindrée, en gomme brûlée et en V-Twins, est en cours de réalisation et sera en ligne le plus rapidement possible. En attendant, allez donc vous chercher une bière – ou même deux.
A man of the world will click his tongue at the sound of the name Kobe, which obviously stands for the exceptional quality of a regional specialty from the southern tip of the Japanese empire. But before you start daydreaming of masterfully prepared steaks, stop right there. We are of course talking of hot metal, combusted hydrocarbons and 2 wheels here.
The city of Kobe is and has been, after a short interlude in Osaka, the venue for a custom bike show that, (apart from the Yokohama Hot Rod Custom Show, taking place in December), has no equal, when sheer number and quality of the bikes on show are considered.
Here in Kobe the thing is called New Order Chopper Show. OK, as new as the name would have it, the show isn't anymore. This is now the 11th time that the best wrenching Japan has to offer is being rounded up in a huge exhibition hall. As a side show they're having the Barbarian Circus, a rather wacky name for a cool gathering of pinstripers, paintshops and shops for lifestyle objects and collectables.
In the exhibition hall the full force of spectacularly customized Milwaukee iron hits the eye, but in the parking lots it gets even better. Herds (yeah, Kobe beef!) of Knuckleheads, Panheads, Shovelheads and other gems out of Milwaukee are just parked casually everywhere. Amazing!
But let's get back into the hall. Meanwhile all the builders have taken a vote on what they think is standing out from this crowd of incredible bikes and deserves a trophy. And the winners are:
Shiun Craft Works from Kobe, with their '58 ironhead digger found themselves in third place, second place went to a fine Knucklehead chopper by Body Kleaner, Hamamatsu. Finally, best bike in the show went to the '37 U-model chopper "BLUE OCEAN" by Revolt Custom Cycles, Osaka.
Our congratulations go to the winners and all those great people who brought their fantastic machines, the organizers for the great show, and the 4000 visitors for their good taste.