Home

FULL THROTTLE TO THE PAST.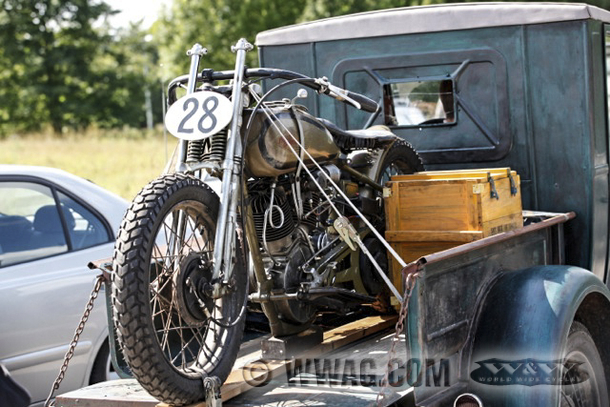 FULL THROTTLE TO THE PAST.
And by "The Past" we don't mean the past that's still fairly visible in your current V-Twin's rear view mirrors.
No, Sir, we're talking about Milwaukee hardware that wore down their balloon tires way beyond the smoke of the Second World War. In this section we're talking about Harleys through 1936.
No big surprise then, that the supply of spare parts for these vehicles is somewhat marginal, concerning either quantity or quality. By some good fortune we have among our people one or two knowledgeable V-Twin historians who do their own wrenching on pre war machinery. And they've got enough balls to go racing with those old clunkers too.
So, true to our motto "We ride it, we sell it", a long time ago we started to source and make available those quality parts for maintenance and restoration of pre war Harleys.
Top of the list in this almost archeological quest for the right parts were of course the alternatively unfindable or way too expensive IOE forks. In their time these forks were so successful that not only H-D used them for some 20 years; other manufacturers such as Brough Superior were, let's say, inspired by them.
And what do you know, after exhaustive research and comparison we succeeded in finding a manufacturer who is making these forks with today's technology and materials. The quality is what you would expect from W&W Cycles. We're proud to offer replica forks for F and J models from 1925 through 1929.
The other good news is this: browsing this section you might even find some inspiration for your contemporary project.
Either historical, or fresh off the Milwaukee assembly lines, whatever your bike, our people on the phone are always working full throttle to answer as many of your questions as thoroughly as possible. May they concern today's Harleys, those of yesterday, or those of a loooong way in the past.
Rreproduction of the taillight as used on all 1915-1933 models. more

In the early days of motorcycling batteries and charging systems were a far cry ... more

Vintage-style braided cotton 16 gauge spark plug wire to fabricate your own old ... more

Wide selection of fittings and terminals for Vintage-style braided cotton spark ... more

Add some vintage flair to your stock bike or your custom bobber or chopper! ... more

Reproduction of the accessory horn and magneto kill switch. more

Duplicate of the original tool used to remove and install OEM-type air cooled ... more

Reproductions of the Beck #3 "air-cooled" spark plugs as they were offered back ... more

This handlebar is dedicated to the infamous board track machines of the Teens ... more

The shape of these handlebars is inspired by the legendary Tramp I, a ... more

Back in the good old times it was very common that bikers bent springer bars to ... more

Erwin "Cannonball" Baker would have liked these unusual handlebars during his ... more

Erwin "Cannonball" Baker would have liked these unusual handlebars during his ... more

Accurate reproductions of the front forks for IOE models thru 1929. This fork ... more

Reproductions of the rear frame stands for IOE models. Rear fender clips and ... more

Nice reproduction of the Classic Ribbed clincher tire as it was used in the ... more

Reproductions of the original hub assemblies as used 1916-1927 on IOE models. ... more
Reproductions of the original hub assemblies as used 1915-1929 on IOE models. ... more

Until 1929 the factory used Clincher type rims and tires. These reproductions ... more

Like a blast from the infamous wooden board tracks. The minimalist, sparing ... more

Reproductions of the shifter levers for IOE models. Correctly made from spring ... more

Complete rear brake kit as used on 1919-29 J&F Twins. It comprises drum, lined ... more

Nice reproductions of the fuel and oil tank combinations for 21" Singles ... more

Reproductions of the fuel and oil tank combinations for IOE models. Made from ... more

Water transfers of authentic quality for your precious original gas tank. ... more

Phantastic reproduction of the legendary Mesinger Racer seat, which was ... more

Precisely bended replacement pipes for IOE models 1915-up. more

Awesome craftsmanship show these velocity stacks for Linkert and Schebler ... more

Worn flywheels are a major obstacle during the rebuild of an engine, mostly ... more

Accurate, high quality reproduction of the four-lobe cam gear as used by the ... more

Get that perfect vintage style and feel with one of these cool Stormer jackets. ... more

The gauntlet gloves (Marlon Brando in "The Wild One" has the same) are made ... more

A classic Climax design with distinctive split lenses made from triplex glass, ... more